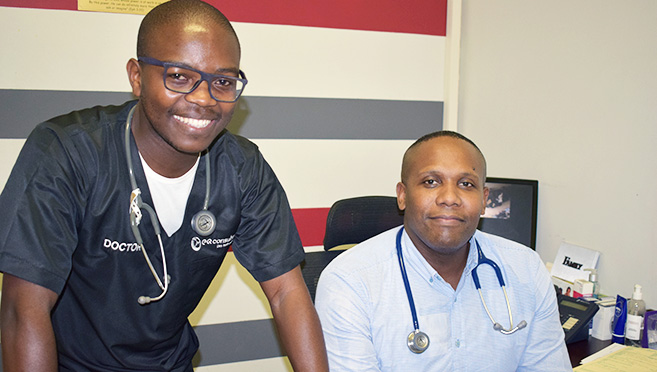 Young Doctors Advance Healthcare Access in Umlazi
Click here for the isiZulu version

Most young doctors prefer establishing their Medical practices in busy city centres or shopping malls, however, this has not been the case with Dr Siphesihle Dlamini (27) and his business partner Dr Langelihle Ngubane (37).
The young general practitioners have recently opened their joint medical practice in Umlazi township, south of Durban.
Having completed their MBChB degrees at UKZN's Nelson R. Mandela School of Medicine and both having spent half of their childhood in Umlazi, it has always been their dream to go back to this community and change healthcare provisioning for the better.
'Losing my mother whilst I was still in matric and later losing my father whilst in my final year of study at varsity motivated me to turn all negative situations around and to be positive,' said Dlamini.
Born in KwaMashu and later moving to reside in Umlazi township, Dlamini matriculated at iSibonelo High School in KwaMashu and completed his MBChB in 2013. He is currently studying towards a Postgraduate Diploma in Occupational Health and Safety.
'When I was completing my community service at Prince Mshiyeni Hospital, Ngubane was already a well-established General Practitioner. He mentored me all the way and we are now good business partners and friends. Most importantly, we share the same dream and vision, hence we want to do more community outreach and make health care easily accessible to our communities.'
Ngubane, who completed his MBChB in 2003, was born in Nqutu in northern KwaZulu-Natal. Part of his childhood was spent in the rural towns of eShowe and kwaNongoma where his father, a pastor, did his church work. It was during this time when Ngubane noticed how most impoverished communities struggled to access healthcare. He observed how people in rural communities had to travel long distances to nearby towns just to access healthcare services.
'Our new practice at P Section, Mayibuye Drive, in the heart of Umlazi township is a convenient one stop-shop where we offer services of managing acute and chronic conditions, diagnosis, treatment and specialist referral services, pap smear, male circumcisions, medical information and advice, health check-ups, antenatal care, family planning which are medical services that are most needed by our communities,' said Dlamini.
For Ngubane, opening a practice in Umlazi is a dream come true since he also spent few years in Umlazi township. Ngubane also practices privately as an Occupational Health and Safety Officer for a company based in Durban.
'Growing up - I always believed that I would be a civil engineer, now I don't think I would have survived in that field - I have fallen in love with Medicine. This profession gives you instant satisfaction as you get to establish good relations with your patients, here you don't only treat physical ailments but you end up providing counselling and psycho-social care to patients as they share their stresses and anxieties with you on a daily basis. Patients trust us and that gives one instant gratification,' expressed Ngubane.
In their hectic schedule of marketing their newly opened surgery in Umlazi, studying, attending to other private businesses, the two also run a busy medical practice in Pinetown.
'The University of KwaZulu-Natal did not only train us to be good doctors, but also skilled us in leadership, and provided us a platform to grow relations and network as healthcare professionals.'
Words: Lihle Sosibo