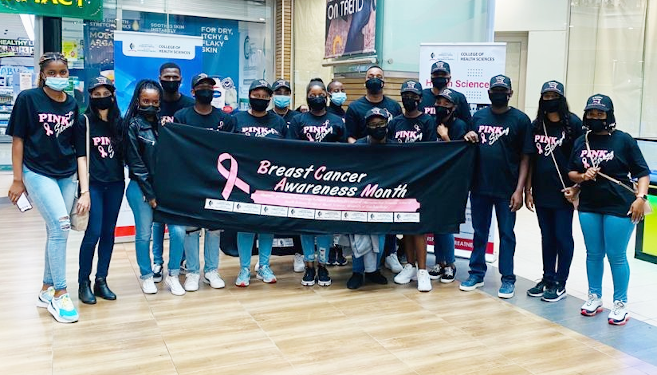 Breast Cancer Awareness Campaign
Postgraduate students in UKZN's College of Health Sciences and academics from the Molecular and Clinical Pharmacology Laboratory commemorated Breast Cancer Awareness Month by informing and updating the public about the disease.
Professor Peter Owira, his postdoctoral research Fellow, Dr Nikita Devnarain, and his postgraduate students from all levels, handed out pamphlets and breast cancer awareness ribbons to the public in Durban malls and on campus.
'The community engagement campaign was about creating breast cancer awareness in the Durban community,' declared Devnarain. 'We aimed to educate people about breast cancer; what it is, what causes it, the warning signs, ways to prevent it, treatment, myths and facts about it, and how women can do self-examinations to detect signs.'
According to Owira, breast cancer is a serious public health problem and no-one is exempt. 'Besides genetic predisposition, obesity, metabolic syndrome and diabetes are among conditions which heighten the risk of contracting the cancer,' he said.
Risk factors had reached epidemic proportions in South Africa. 'As in all cancers, the earlier it is diagnosed the better, hence we chose to highlight these issues to the general public based on the in vitro findings of the research we are currently doing,' he said.
Clad in branded t-shirts, caps and masks, the team set up an information desk with fliers and banners at Westwood Mall and The Atrium shopping centres where they informed interested community members on basic preventative measures and diagnostic options.
The team was also on UKZN's Westville campus quad, educating students and staff about the disease.
According to Devnarain, the campaign succeeded in heightening awareness, especially among men and young boys many of whom were unaware they were also susceptible.
'Many women were pleased to discover that they could do self-examinations in the comfort of their own homes.'
The campaign also benefitted women not well informed about breast cancer and who didn't go for annual breast examinations and mammograms.
It also helped elderly women recently diagnosed with cancer but unaware about their treatment options.
Words: Nombuso Dlamini
Photograph: Supplied