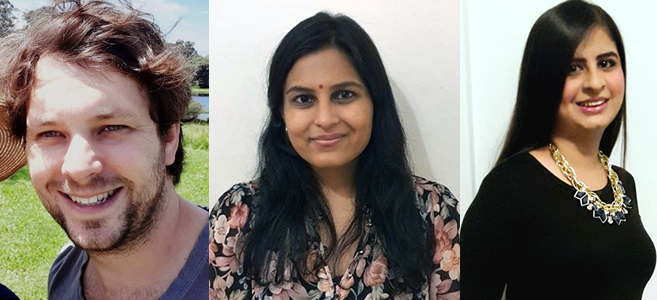 UKZN Psychiatry Registrars Win Awards at SASOP's National Congress
Click here for the isiZulu version

Three UKZN Registrars were announced as winners of research awards during the 20th National Congress of the South African Society of Psychiatrists (SASOP).
They were Dr Shaun Hain, Dr Nikita Singh and Dr Bilkis Dawood.
Hain, who is the Senior Registrar in the Discipline of Psychiatry, won the MS Bell Award in Psychiatry for the best registrar oral presentation.
His study titled: Retain Rural Doctors: Burnout, Depression and Anxiety in Medical Doctors Working in Rural KwaZulu-Natal, was pertinent in the current pandemic and addressed an important gap in mental health issues of doctors working in rural areas.
Said Hain: 'To address the unequal distribution of doctors in South Africa a variety of strategies has been used to attract them to work in rural areas. However, while there is a need to attract, there is also a need to retain these doctors to ensure equitable access to healthcare. We performed a quantitative descriptive cross-sectional study in three districts in northern KwaZulu-Natal among doctors working at 15 rural district hospitals during August and September 2020.
'Our study, involving 96 Medical doctors, found high rates of burnout (68,5%), depression (35,6%) and anxiety (23,3%) in rural doctors in northern KwaZulu-Natal, all of which were significantly associated with the intention to leave the public sector in the next two years.
'Community service medical officers as a group were associated with high burnout (85,2%) and anxiety rates (29,6%), and the female gender were also significantly associated with higher burnout rates (84,7%). We recommend that evidence-based solutions are implemented to prevent burnout and retain rural doctors particularly in the high-risk groups identified.'
Hain was supervised by Professor Bonga Chiliza and Dr P Milligan of UKZN's Discipline of Psychiatry with his presentation co-authored by Dr Andrew Tomita of the KZN Research Innovation and Sequencing Platform (KRISP), UKZN's College of Health Sciences and the Centre for Rural Health.
Singh won the MS Bell Award in Psychiatry for the best poster presentation at the Congress. Her presentation was titled: The Prevalence and Association of Adverse Childhood Experiences (ACEs), Substance Use and Depressive Symptoms in People Living with HIV (PLWHIV) during the COVID-19 pandemic.
This study was conducted at an outpatient HIV service in a state hospital in the eThekwini Municipality in KwaZulu-Natal after the second wave of the COVID-19 pandemic in South Africa.
The results of this research described a high prevalence of ACEs, substance use and depressive symptoms in PLWHIV and the association of cumulative ACEs with substance use and depressive symptoms in PLWHIV. The comorbid trauma, substance use and depression were generally undetected, and findings suggest the need for better screening strategies and integrated services for this triple burden among PLWHIV.
Singh was supervised by Dr S Paruk and the poster was authored with Dr V Ntlantsana and Tomita.
Dawood won first prize for best poster presentation at masters level while his study was accepted for publication in an international journal.
His presentation was titled: Unheard, Uncared For and Unsupported: The Mental Health Impact of COVID-19 on Frontline Healthcare Workers in KwaZulu-Natal Province, South Africa.
In this cross-sectional electronic survey, healthcare workers were surveyed during the pandemic in connection with psychological distress. Key findings were that at least half of the participants experienced psychological symptoms in the form of depression, anxiety, and stress, with one-fifth being in the severe range. Additionally, most of the participants felt unheard, uncared for and unsupported.
Said Dawood: 'High levels of depression, anxiety and stress and traumatic stress, combined with poor perceptions of employer support, highlight the need to identify and address the psychosocial support needs and expectations of healthcare workers for the duration of the pandemic as well as for the mental health sequelae post-pandemic.'
Dawood was supervised by Professor Suvira Ramlall while Tomita co-authored the poster.
Words: Saeeda Paruk
Photographs: Supplied