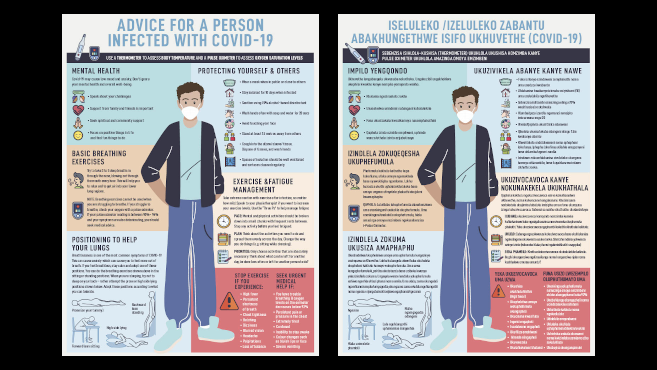 Discipline of Physiotherapy uses Infographic in Battle against COVID-19 Infection
UKZN's Physiotherapy Discipline has developed a simple infographic to show user friendly physiotherapy techniques to manage some of the symptoms experienced during COVID-19 infection.
Infographics allow health messages to be relayed widely through digital and online platforms.
'The infographic is in English and isiZulu to ensure that it is available to as wide an audience as possible,' said Professor Saul Cobbing, Academic Leader in the Discipline.
Cobbing said the collaborative project provided a practical approach of sharing basic care principles for people infected with COVID-19.
'It will help those infected to adopt principles to protect themselves and those around them. Basic breathing exercises and positioning are also included to help address respiratory complications.'
The infographic also addresses exercise and fatigue management and the profound and prolonged nature of fatigue observed in affected individuals.
Discipline of Physiotherapy staff members involved in the project are Mr Sithembiso Blose, Ms Nomzamo Chemane, Mr Levin Chetty, Professor Verusia Chetty, Mr Kurt Daniels, Dr Hamilton Pharaoh, Dr Stacy Maddocks, Professor Sonill Maharaj, Dr Thayananthee Nadasan, Mr Rogier van Bever Donker, and Cobbing.
They believe it is essential to share the principles using an easy to understand and consequently adoptable approach which includes detail on mental health issues as research indicates that the psychological implications of COVID-19 infection are often ignored.
'In these graphic illustrations, patients are encouraged to seek help from social networks, communicate about their mental health, and use coping strategies such as fun activities to distract them from the negativity surrounding this pandemic,' added Cobbing.
The infographic is available on the UKZN Department of Physiotherapy's Twitter handle: @UKZNphysio. We are #proudlyUKZNphysio
Words: Nombuso Dlamini
Images: Supplied