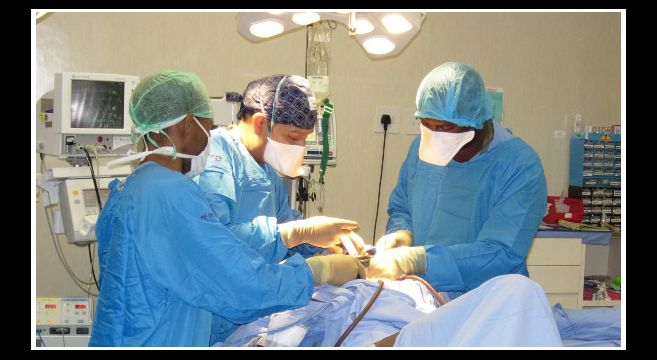 Online Teaching Platforms Ideal for Medical Training
General surgeons need to be aware that the learning arena has changed dramatically due to COVID-19, says UKZN lecturer and Head of Surgery at Ngwelezana Hospital in Empangeni, Dr Maheshwar Naidoo.
Naidoo believes that teaching will never be the same again and that online methods need to be embraced and optimised to maintain the quality of general surgeons being trained locally and abroad.
Naidoo has been running an ongoing online teaching programme for general surgery registrars since 2018 - well before the pandemic hit and prior to the sudden increase in popularity of electronic facilities such as Zoom. He used to live stream his weekly lectures on YouTube.
During an interview he said: 'My reason for using online teaching platforms as far back as 2018 was because I live in Richards Bay which is 180km from Durban. I was doing face-to-face teaching for general surgery registrars at UKZN but found that getting everyone together at a fixed time was difficult. Because I only came to Durban once a week, it was not easy to reschedule lectures and I discovered that the surgery registrars were missing out.'
Naidoo says he started experimenting with the various online teaching platforms and set up a course on Operative Surgery on teachable.com (surgreg.teachable.com) which mainly contains recorded lectures. He started weekly online lectures using PowerPoint presentations together with videos of his lectures in real time. 'Initially, I lectured UKZN registrars only but as more and more registrars heard about my online teaching, many in general surgery from across the country joined the classes,' said Naidoo.
'The Zoom platform has become very popular because of restrictions created by the pandemic. The advantage of Zoom is that it allows the audience to interact with the presenter/lecturer. When I started in 2018, I had between five and eight UKZN registrars participating in the online lectures. This number has grown to a total of around 150 although the average number of participants is about 50 to 60 a week. All the online lectures are recorded so are available later.'
Naidoo, who is from a family of academics most of whom have trained at the Nelson R Mandela School of Medicine, was attracted to general surgery from his fourth-year in Medical School. Undergraduate training at King Edward VIII Hospital in Durban inspired him to specialise in general surgery.
He qualified as a surgeon in 2003 and spent some time in private practice in Empangeni, re-joining public service in 2011 and has been at Ngwelezana Hospital ever since. Naidoo has an interest in minimal access surgery and has a Fellowship in Minimal Access Surgery qualification.
He is recognised as having worked tirelessly in improving the academic experience for undergraduate and postgraduate students as well as "the patient experience". From 2016, Naidoo has been an undergraduate lecturer for final-year Medical students conducting face-to-face lectures and tutorials which he now gives online.
He was also appointed UKZN co-ordinator responsible for teaching in the Nelson Mandela Fidel Castro Collaboration programme (NMFC) involving peripheral teaching sites such as the Ngwelezana, Stanger and Port Shepstone hospitals.
He has been intensely involved in training postgraduate students and registrars running a laparoscopy virtual training course within the Department of Surgery between 2016 and 2017. At Ngwelezana Hospital, Naidoo promoted research and supervised several junior medical officers.
Naidoo is currently collecting and collating data for his PhD titled: An Approach to Improving the Uptake of Laparoscopic Appendectomy in Public service in KwaZulu-Natal, which he intends completing within the next three years.
'As a School of Clinical Medicine, we acknowledge and celebrate Naidoo's determination, hard work and leadership and his contribution in the Department of General Surgery,' said Head and Dean of the School of Clinical Medicine, Professor Ncoza Dlova.
Words: Lihle Sosibo
Photograph: Supplied