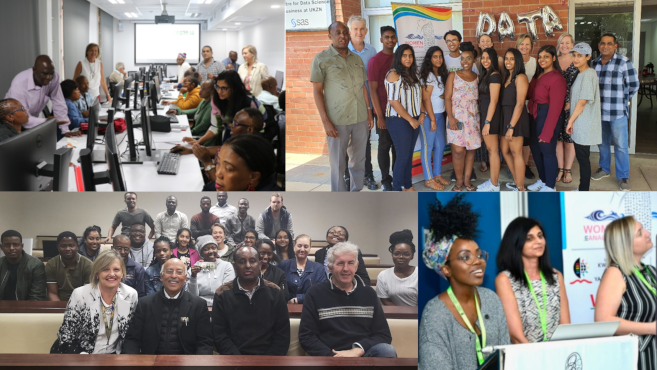 All Systems Go for New Data Science Programmes in 2021
The School of Mathematics, Statistics and Computer Science (SMSCS) is celebrating the finalisation of a suite of Data Science degrees that will be offered as part of its programmes from 2021, equipping the School to attract top school leavers to enrol in mathematics, statistics and computer science, and to promote high level studies both in these disciplines and in Data Science through to postgraduate level.
The result of almost five years of focused effort by Dean and Head of the SMSCS Professor Delia North and internationally acclaimed Applied Statistician Professor Temesgen Zewotir, the new programmes in Data Science are part of the School's strategy to tap into this emerging field and enhance its training of well-rounded professionals who are able to contribute to business and industry on entryto the workplace.
The programmes are designed around building skills for business and industry by developing high-end data analysts that can "think with data" to solve the challenges facing these sectors.
The UKZN programme is the first in South Africa to offer a Master's, Postgraduate Diploma, Honours and BSc degree in Data Science, with the former two allowing for part-time as well as full-time enrolment.
North, who believes that students should not be "locked-in" to a programme without the possibility of pursuing different avenues, ensured that the undergraduate programme allows for students to elect to change to the M-stream BSc degree, where they can major in mathematics, applied mathematics, statistics, or computer science.
'Students often do not have enough exposure at school to be sure which area they want to work in for the rest of their lives as they are only acutely aware of the subjects offered at school,' she explained.
Featuring work-based learning opportunities made possible by strong collaboration and partnerships with industry, North and Zewotir have constructed the programmes to incorporate internships and solving of real problems emanating from business and industry, a unique feature that equips students with practical problem-solving skills and knowledge.
Feedback on their work from industry is important not only for students, but also for the staff teaching on the programmes, who will work continuously to improve their offerings to industry and to students by routinely reviewing their academic programmes.
'This will mean that graduates fulfil the highest industry and academic standards and that their qualification positions them to make strong contributions to several fields that draw on data science skills, thus meeting the high demand for talented data scientists,' said Zewotir.
The Postgraduate Diploma and Masters by Coursework in Data Science will be launched in 2021. Early responses saw 2 600 enquiries about the qualifications within 24 hours of the course information being broadcast on social media, indicating the high demand for and popularity of the programme.
Words: Christine Cuénod
Photographs: Supplied