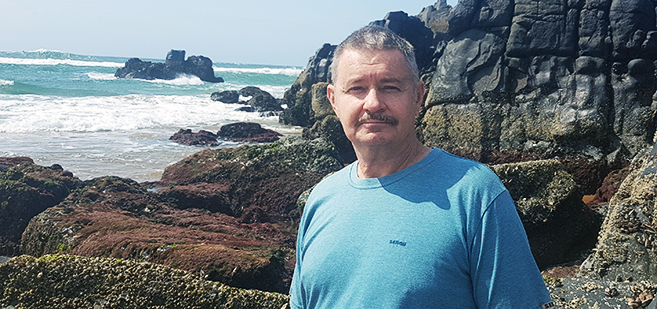 Life Science Teacher Awarded PhD, Now Set on Postdoc Research
Durban's Thomas More College was proud to announce that it now has a new doctor in the house – Life Science teacher, Gary Robson, who was awarded his PhD in Biological Sciences at UKZN's Spring Graduation ceremony.
'For my PhD, UKZN was a natural choice as the animals I wanted to study are endemic to the South African east coast and some of the lecturing staff there were contemporaries of mine during my initial six years at the University (1981-1986),' said Robson.
'I also needed a supervisor who would be willing to take on a mature student and, in that regard, I thank Professor Colleen Downs for giving me this great opportunity.'
An avid marine aquarist since a teenager and one who is passionate about marine invertebrates, Robson's dissertation focused on two species of patellid limpets and expanded on previous research he had conducted for his master's degree some 35 years ago!
'As part of my master's degree in 1985, I described a new species (Scutellastra aphanes) of patellid limpet and reinstated another (S. obtecta),' said Robson. 'An 11-month field study on the new species was also carried out in support of the taxonomic work. In the intervening years, research established that the two species I had described were genetic sister species.'
Despite being described 35 years ago, no comprehensive ecological research has been conducted or published on either species since then.
Robson explained that the southern African shoreline was inhabited by a great diversity of patellid limpets with about 20 species. Not only are almost half of all the known species of Patellidae endemic to southern Africa where they exhibit complex behavioural and ecological traits – including territoriality and gardening of algal resources – but because of their abundance, diversity, ecological importance, availability and intertidal occurrence, limpets are one of the most common taxa to be manipulated in ecological studies. Until recently, however, most of these studies were concentrated on the shores of the west coast and the south coast (east of Cape Town as far as Dwesa in the former Transkei, Eastern Cape).
'Indicative of the paucity of research in the east coast region is the fact that only four species added to the list of South African patellids in the last 35 years have been from that region,' said Robson. 'My PhD was, therefore, a continuation of my previous research.'
Robson's PhD aimed to address the gaps in the current understanding of the ecologies and behaviours of Scutellastra aphanes and S. obtecta compared with each other and with other territorial species, and to determine whether these two species speciated while occurring together over their entire distribution range on the east coast of South Africa.
Robson undertook monthly field sampling over two years at four sites covering an area of about 600km: Mission Rocks at iSimangaliso Wetland Park, Isipingo, Port Edward and Coffee Bay/Dwesa in the Transkei.
'Both species demonstrated a unique combination of ecological characteristics including asynchronous spawning throughout the year, where they can produce up to 50% of their total body weight in gonad,' said Robson. 'Both species are protandrous hermaphrodites, starting life as males, after which most become female later. And both species are territorial, defending a territory, which sometimes results in the death of the intruding limpet.'
Robson's study is the only research to be conducted on a patellid limpet species on the east coast, and has demonstrated that the species there have very different life history traits to those on the south and west coasts.
'In addition, my research has confirmed that these two species are protandrous hermaphrodites. There is only one other South African species where this has been confirmed.'
Inspired by his PhD, Robson is setting up a Marine Science teaching node at Thomas More College. 'As I am a high school Life Science teacher and I am getting towards the end of my career, I hope to complete the research on these two species and continue to do postdoctoral research as there are several limpet species endemic to the east coast that have had no research conducted on them.'
Robson thanked his wife Sandra – who he described as his 'invaluable research assistant' – for keeping him company on the many thousands of kilometres travelled for field trips, and for 'acting as my wave spotter, thereby ensuring my safety.
'In addition, I would like to thank her for putting up with the many late nights, with weekends when I was away and also for the lack of house and garden maintenance!'
Words: Sally Frost
Photograph: Supplied