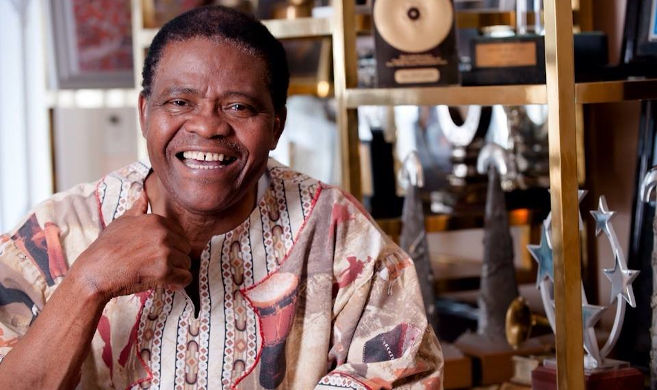 UKZN Mourns Dr Joseph Shabalala's Passing
The University of KwaZulu-Natal joins South Africa, Africa and the rest of the world in mourning the death of Bhekizizwe Joseph Shabalala – the legendary musician and founding member of multiple Grammy award-winning vocal group, Ladysmith Black Mambazo.
Shabalala, who had close connections with UKZN, passed on in a Pretoria hospital this week. In 2004, Ladysmith Black Mambazo and the late Lebo M delivered a soul stirring performance at the installation ceremony of Dr Frene Ginwala, the first Chancellor of UKZN, and Professor Malegapuru Makgoba, the first Vice-Chancellor and Principal of the University.
UKZN Corporate Relations Executive Director, Mr Ashton Bodrick, said the University had in 2010 awarded the world-acclaimed musician its highest honour - an Honorary Doctorate in Music for his distinguished contributions to the advancement of South African music.
'Dr Shabalala was also an Honorary Professor of Music at the University in the early 1990s. Music students of that time will fondly remember his workshops on Isicathamiya (a Zulu singing style similar to that of a cappella). The University community is deeply shocked and saddened by Dr Shabalala's passing. On behalf of the entire UKZN fraternity, I extend our heartfelt condolences to his family, friends and multitude of fans across the world,' said Bodrick.
Tributes and condolences have been pouring in from around the globe, including from renowned singer/musician Paul Simon who worked with Shabalala on the iconic hit song Homeless. The two sang and performed together on numerous occasions, both in South Africa and a variety of world venues.
Said Simon in his tribute: 'Joseph Shabalala took Ladysmith Black Mambazo and brought their music all over the world. Imagine! What a great accomplishment for a boy from apartheid South Africa. I admired him for his music and Godly spirit. People love Mambazo. I love Joseph. We had a great time.'
Shabalala started singing in his youth and formed Ezimnyama in 1959, later changing the name to Ladysmith Black Mambazo – Ladysmith being his hometown, Black for the cattle in the area and Mambazo (axe) indicating the group's "sharpness".
The group released their debut album in 1973, going on to convert to Christianity and include religious music in their performances.
The group gained international attention when they worked with Simon in 1986 on his album Graceland, co-writing Homeless, the tune being based on an isiZulu wedding song. They also sang the backing to another Simon hit: Diamonds on the Soles of her Shoes.
They worked with a variety of music stars including Dolly Parton, Josh Groban and Emmylou Harris; appeared in the Michael Jackson movie, Moon walker; and in 1993, accompanied the late statesman, Nelson Mandela to Oslo where he received the Nobel Peace prize.
Shabalala retired from the group in 2014, leaving four of his sons in the current line-up.
Professor Christopher Ballantine, LG Joel Professor Emeritus of Music and Fellow at UKZN, who was 'close friends for decades' with Shabalala, described the fallen music icon as an 'extraordinary, generous and loveable human being'. He said he was eager to help, kind, gracious to everyone, immensely humble and importantly, keen to do whatever he could to bring about a better, more humble and humane world. 'Franky, these were the values he lived for. They were also the values he expressed so articulately in his huge output of songs for his multiple Grammy award winning vocal group. He left us a legacy not to just admire, but to also ponder and learn from,' he said
Xolani Majozi, the Manager of the group, said the funeral - which is open to the public - would be held in Ladysmith on 22 February with memorial services taking place in Johannesburg and Cape Town.
Words: Greg Dardagan
Photograph: GlobalGiving