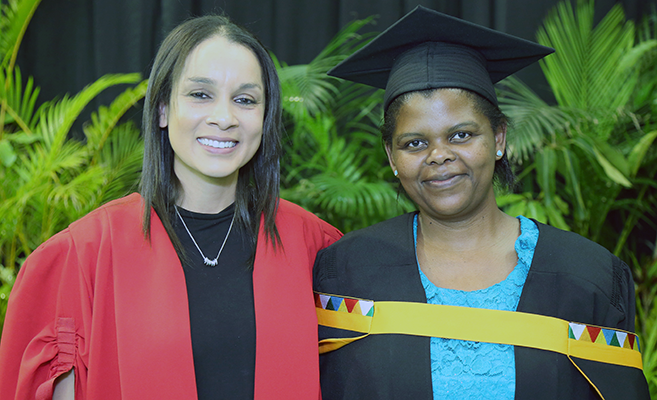 MBA Study Explores Challenges Associated with Mentoring Medical Interns
As a medical doctor, Dr Nokuphiwa Majali understands the importance of medical interns acquiring the crucial skills necessary for the provision of quality healthcare. Her MBA research thus examined the Challenges Associated with Mentoring Medical Interns in the Trauma Emergency Department of King Edward Hospital.
Supervised by Professor Cecile Gerwel Proches, the study unpacks how challenges such as a shortage of mentoring personnel as well as medical equipment and difficult interpersonal relationships between mentors and mentees affect the quality of health service.
'I am a senior medical officer who works with and mentors many interns. From both a mentor and mentee perspective, I have observed the negative impacts that these challenges have on the recipients of our services. As in any other organisation, management issues are extremely important in the health sector; this is what motivated me to study for an MBA,' said Majali.
The research revealed that mentorship is essential for the professional development of medical doctors. However, the shortage of mentoring personnel results in interns not receiving the supervision required to develop their skills. The study recommends that mentors and mentees should strive to improve their interaction in order to promote fruitful relationships.
'The amount of time medical interns spend working, as well as the shortage of senior medical officers (mentors) are of major concern. Mentoring is essential for the professional development of medical doctors, as it helps them to acquire the necessary skills and knowledge for effective performance,' said Majali.
Given that the managerial aspects of health care is one of her key focus areas, Majali is looking forward to exploring the opportunities that the MBA will open for her.
'The diverse curriculum of the MBA programme is extremely valuable. Medical Officers are often expected to take on managerial responsibilities within the hospital. It is thus important to gain management skills and business expertise, along with medical knowledge,' she said.
Words: Thandiwe Jumo
Photograph: Abhi Indrarajan