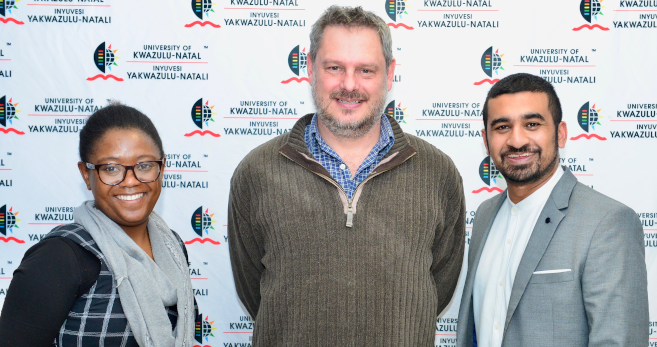 Writing Workshop for Academics at UKZN
UKZN recently hosted a writing workshop run by The Conversation Africa for academics who hold PhDs or are recognised experts teaching in a particular field of study.
The Conversation Africa, a non-profit oganisation (NPO), is a media platform offering informed news and views written by academics and edited by journalists. This platform aims to create a better understanding of complex issues and current affairs by conveying the knowledge in a language that can be understood by the general public.
UKZN'S Dean of Research, Professor Urmilla Bob, welcomed The Conversation Africa and thanked the Corporate Relations Division for organising the event. 'Key stakeholders, including the general public, need to know the findings of research, and this can only be done if we as academics change our generic ways of communicating substantially,' said Bob.
The Conversation Africa's Health and Medicine Editor, Ms Ina Skosana, and Digital Editor, Mr Ozayr Patel, facilitated the workshop and took academics through the training programme.
To source content, The Conversation Africa uses a pitch system and invites academics to pitch their work and explain their content. A journalist is then assigned to edit the work, coming up with suggestions where necessary while giving the academics the final say before publication. Academics are also given personal dashboards, as authors on the site, where they get to see who has read their articles and how their work has been received on social media.
Professor Werner van Zyl of UKZN's School of Chemistry and Physics, a current writer for The Conversation Africa, is ranked third on the all-time UKZN authors' list. He signed up in 2016 and has contributed at least one article a year to this platform. He has four published articles which have been read close to 80 000 times, and has had an article go viral after being picked up and republished by Quartz Africa.
'I think scientists generally do a poor job in explaining themselves properly to the general public, who after all pay taxes to fund their research,' said van Zyl. 'Writing research papers to inform my peers is one of my core duties, but I believe it has become increasingly important for scientists to also educate the local community where possible and to help erase some of the misconceptions and ignorance out there. The Conversation Africa can help with that,' said van Zyl.
'With eight offices world-wide and partnerships with media giants such as eNCA, Mail & Guardian, News24, QUARTZ Africa and CNBC Africa, The Conversation Africa remains a good place for academics to disseminate their writings and add value to their careers,' said Skosana.
Words: Hlengiwe Precious Khwela
Photograph: Albert Hirasen