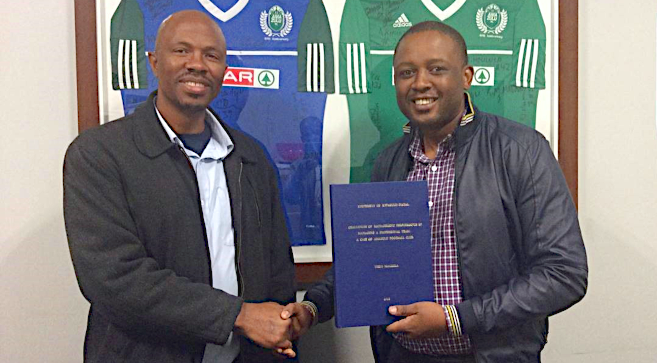 Umcwaningi Udlulisele Imiphumela Kubaphathi baMaZulu FC
Click here for English version
Isitshudeni esenza iziqu zeMastazi kwezoMnotho (KwezokuPhatha), uMnu Tsepo Machila, sidlulisele ucwaningo lwaso olubizwa ngokuthi The Challenges of Management Performance in Managing a Professional Team: A Case of AmaZulu Football Club, kuleli qembu likanobhutshuzwayo.
Lolu cwaningo obelubhekwe wuNks Lindiwe Kunene noDkt Patmond Mbhele belubheke izinselelo ezibhekene nabaphathi ekuphatheni kahle leli qembu laKwaZulu-Natali.
UMachila uthe: 'Ekubhekeni lezi zinselelo, lolu cwaningo lusebenzise indlela exubile ukuqoqa imininingo. Kusetshenziswe indlela ebizwa nge-qualitative data ukuthola ulwazi kubaphathi abayi-12 baMaZulu Football Club nezikhulu eziphezulu zezinkampani zabaxhasi ezine. Ngibuye ngasebenzisa i-quantitative data kumakhasimende noma abalandeli baMaZulu abangama-385 baseThekwini. Ngazise imenenja jikelele yeqembu, uMnu Lunga Sokhela ngemiphumela, okuningi avele ekwazi. Ubonge kakhulu ngocwaningo engilwenze ngeqembu nokubazisa ngalo.'
Imiphumela iveze ukuthi izindaba zezimali ziphethwe ngendlela nangobunono, okuyinto egculisa abalingani beqembu nabalandeli noma amakhasimende.
'Kepha ukusebenza kweqembu kutholakale kungagculisi. Ngiphakamise ukuthi kube khona omele inkampani yabaxhasi ethimbeni labaphathi beqembu ukulicebisa ngamasu nokuthi abe wumxhumanisi phakathi kweqembu nabalingani bangaphandle. Ngibuye ngaphakamisa ukuthi kusetshenziswe ithuluzi elibizwa nge-Balanced Score Card ukwelekelela AmaZulu ukuthi afeze izinjongo nombono wawo. Njengomthandi webhola, ngiyaziqhenya ngokuthi ngikwazile ukuphosa esivivaneni ekwakheni isikhungo esikhulu kangaka njengaMaZulu,' kusho yena.
Kumanje leli qembu likanobhutshuzwayo licubungula lolu cwaningo, libheka ukuthi lungalisiza kanjani ukuphucula iqembu.
Amagama: ngu-Thandiwe Jumo
Isithombe: Sithunyelwe