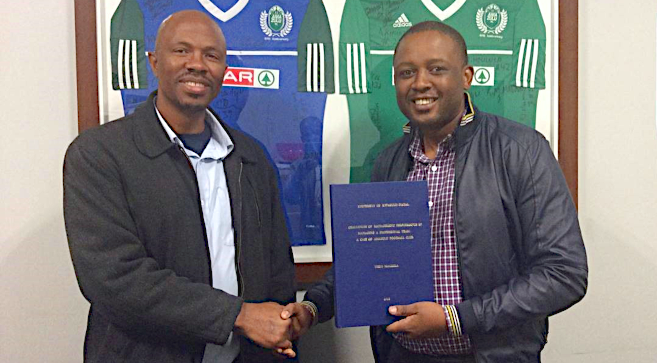 Graduate Shares his Research with AmaZulu Football Club
Click here for isiZulu version
Master's in Commerce (Management) graduate, Mr Tsepo Machila, handed a copy of his dissertation on: Challenges of Management Performance in Managing a Professional Team: A Case of AmaZulu Football Club to the soccer team.
Supervised by Ms Lindiwe Kunene and Dr Patmond Mbhele, the study assessed the challenges management face in efficiently and effectively managing the KwaZulu-Natal based professional football club.
'In assessing these challenges, the study used a mixed method approach to gather data. Qualitative data was collected from the 12-member management team of Amazulu Football Club and from executives of four corporate sponsors. I also solicited quantitative data from 385 customers/fans of AmaZulu within the eThekwini region. I briefed the team's general manager, Mr Lungile Sokhela, on the findings - the majority of which he was already aware of. He was very appreciative of my interest in conducting research on the club and for the feedback,' said Machila.
The findings revealed that financial matters were efficiently and effectively managed to the satisfaction of both stakeholders and fans/customers.
'However, the club's performance and productivity were found to be unsatisfactory. I recommended the inclusion of an executive sponsor on the management team to provide strategic operational guidance and act as a link between the club and external stakeholders. I also suggested the implementation of a Balanced Score Card tool to assist AmaZulu to achieve its organisational objectives and vision. As a lover of football, I am proud that I could contribute to building a great institution like Amazulu,' he said.
The soccer team is currently studying the research and exploring how it can be used to improve the club.
Words: Thandiwe Jumo
Photograph: Supplied