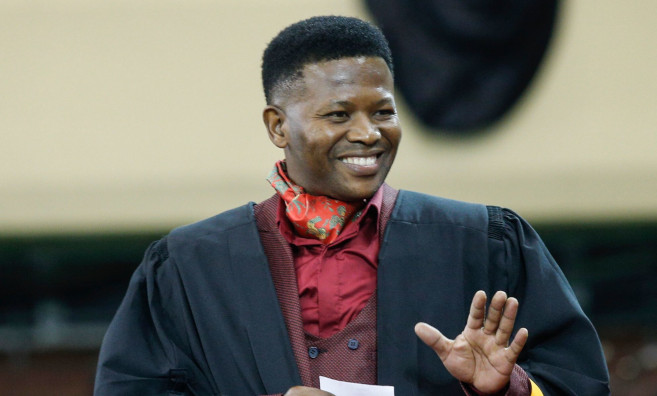 Study on Student Leadership Leads to Master's Degree
Clinical Placement Officer at UKZN's Discipline of Dentistry, Mr Ryan Nkosi, graduated with a Master's in Commerce degree for a study he conducted on student leaders at the Durban University of Technology (DUT).
As a person with a background of serving as a student leader during his undergraduate years, Nkosi's study focused on leadership development of student leaders at residences in DUT.
During his studies, Nkosi was elected as a house committee member in residence and achieved the feat of being best House Committee for a year.
'The Residence Life awarded me with a certificate of recognition as the Long Serving Residence Advisor,' said Nkosi. 'The residence problems I championed during my term in office in student leadership encouraged me to do research within residence leadership. It came at the time when most institutions in the country were facing residence problems generally.
'I believe that my research findings could assist in solving some of the current problems being experienced,' said Nkosi.
The study was conducted among 80 student leaders within 29 residences. Key findings indicated that good leadership behaviour included encouraging the contribution of others (eg praising people for a job well done); enabling others (eg treating others with dignity and respect) and Ubuntu (humanity towards others) when dealing with conflict resolution issues.
A glaring shortcoming identified by the study was the lack of formal leadership training and mentorship offered to the students. Leadership behaviours are developed through peer interactions and the exercising of social influence rather than formal leadership courses, mentorship or coaching.
Nkosi's study also found that the majority of the leaders fell short in setting good examples by following through on the promises and commitments made and inspiring a shared vision of common goals.
Nkosi, who now lives on Durban's Berea, completed his matric at Newcastle Madadeni Bethamoya High School. He hopes to pursue a doctoral degree if his work commitments allow him to.
He thanked his family and friends for their ongoing support and advice. 'Support comes in different forms. Sometimes, as students, we don't need financial support from our families - we just need motivation and encouragement. By believing in us, it keeps us going every day. The challenge that young people face is having friends who don't share the same thinking as they do. I have been lucky enough to have friends and family who motivated me to chase after my dreams.
'I also want to acknowledge my supervisor and mentor, Dr MacDonald Kanyangale.'
Words: MaryAnn Francis
Photograph: Rogan Ward