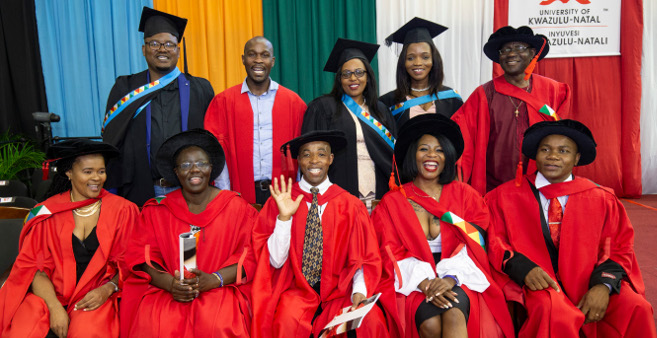 Education Academic Produces Nine PhD and Masters Graduates
Nine excited Education students, all supervised by Professor Simon Bheki Khoza, graduated from UKZN; five with PhDs with the remaining four with their Masters degrees.
To date, Khoza has graduated a total of 16 students in 2018, of which seven graduated in April this year (two PhD and five Masters).
The latest graduands are Dr Sella Terrie Kisaka, Dr Dumisa Mabuza, Dr Makhulu Makumane, Dr Makhosazane Shoba, Dr Peter Sodje, Mr John Cobongela, Mrs Mafumane Morojele, Mr Victor Shozi and Ms Thando Matola.
Kisaka's study sought to gain an understanding of the use of Moodle e-resources in teaching MEd students; Mabuza's study explored educators' reflections on the Swaziland Junior Secondary Integrated Consumer Sciences curriculum with the intention of improving it, particularly its subject matter; Makumane explored educators' enactment strategies of the French integrated curriculum in the Lesotho context; Shoba's study explored teachers' experiences of teaching the speaking of English to Second Language learners in the Intermediate Phase in township primary schools; Sodje's study looked at the use of internet resources in learning Mathematics at a Technical, Vocational Education and Training (TVET) College in South Africa; Cobongela explored educators' experiences of the implementation of the Grade 12 Dramatic Arts curriculum and assessment policy statement (CAPS) in three schools; Morojele focused on Grade 4 Educators' enactments of Mathematics Curriculum within township context; Shozi explored educators' views on the teaching of the Grade 9 Natural Sciences Curriculum and Assessment Policy Statement in six selected rural secondary schools within the Zululand district; and Matola explored international postgraduate students' experiences of lecturing at a university in KwaZulu-Natal.
Said Makumane, 'On behalf of the PhD and MED students supervised by Khoza I would like to acknowledge the excellent support we received from UKZN through our excellent and outstanding supervisor. Our PhD journey was strenuous but worthwhile as it not only sharpened our habitual and social skills, but also our professional knowledge. The superb mentorship we received from our dedicated supervisor honed our analytical and research knowledge with skills, and the results that we received from the examiners proved this because my thesis was accepted with no reservations. From our experience, we have learned that working side by side with the supervisor, although sometimes unnerving, can breed amazing results. We urge every PhD student to adhere to this.'
Added Shoba, 'This PhD journey is really a long lonely journey with amazing outcomes if you have a strong supervisor who can motivate you even if you try to give up. Our supervisor understood each and every one of us in terms of our strengths to be used in the theses.'
Words: Melissa Mungroo
Photograph: Rogan Ward