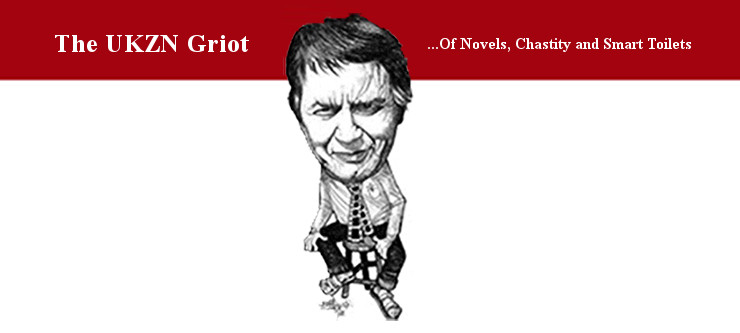 The UKZN Griot. Of Novels, Chastity and Smart Toilets
'Technological chastity is the way to go,' so says Terry Eagleton, a literary scholar and public intellectual who characterises himself as an "e-mail virgin".
He observes that the internet is:
an anti-modern device for slowing us all down, returning us to the rhythms of an earlier, more sedate civilisation. In the frantic, fast-moving years before Apple and Google, you would ask for a hotel room and the clerk would just write your name down in a book - all over in 20 seconds. These days the hotel receptionist types a chapter of his novel. Once he has inserted one or two rather elaborate subplots and added a few complex new characters, he remembers what he is supposed to be doing and hands you your room key [1].
This is my experience also. Recently I had to extend my booking at a very expensive government-managed hotel in Shanghai. I knew it was expensive because its breakfast cost R900 for middling fare, not to mention a cancellation fee of R1 100 if even one wanted to change booking dates. Eagleton came to mind when it took me and my Chinese conference helper 90 minutes to figure out how to make the booking while hovering at the hotel's check-in counter dealing with an apparently disinterested reception desk clerk.
We were told to book in via the Internet. So, armed with my laptop and my helper's cellphone, we tried this obligatory digital route while being disregarded by the clerk who continued to spasmodically type her novel's next chapter on her PC.
Since I wanted to pay cash and not by card, the internet booking site refused to accept instructions entered into my laptop and kicked out a massively inflated quote because the site identified my IP address as "foreign". Questions directed at the clerk in Chinese by my helper were met with long explanations, probably similar to those I often experienced at UKZN, "It can't be done". Since I had previously asked a different clerk to tentatively book the night, the computer now told us that there were two bookings from the same person. By now, I was frantic about potential cancellation costs while wanting to confirm only one booking. All the time, the site demanded my credit card number which I refused to provide lest I get extorted for a cancellation and such use would have resulted in further extortion by the SA Reserve Bank of R60 just to use my card plus my SA bank's processing charges, not to mention the further punishment of a falling exchange rate.
My assistant, Lui, as she explained it, cancelled the first booking by calling the customer service of the hotel booking website. Like other customer service hotlines, the phone was answered by a bilingual automatic system. A human - English or Chinese speaking - can be located by pressing certain numbers. After connecting with a live human being, the booking was thankfully cancelled. Human intervention does still work!
Then, after 75 frustrating minutes with Eagleton's story buzzing my head, not to mention the hilarious British sitcom, Fawlty Towers, Liu booked the room via an app on her Chinese smartphone and I reimbursed her in real money. By this means, we fooled the internet booking site and obtained a quote that was about R400 cheaper than the one I had been given for the same room because her IP address evaded my being surcharged as a "foreigner". The transaction succeeded just as the clerk was completing her first page of her next chapter.
But wait, there's more. On checking out at 3h30 the next morning, I asked for a receipt. This time I did not have my very enterprising Chinese helper with me and I was told that there is "no charge" for the room as the payment had been made by my travel agent. A receipt could not therefore be issued. I explained that the booking had been made by a conference helper in her private capacity and that she could not issue an official travel agent receipt. But this was an argument that I could not win. The taxi was waiting and I had to leave without the hotel's receipt. I did have an electronic receipt from the booking site - all in Chinese- sent to my helper's phone and from there, to my email inbox.
To return to Eagleton's analysis; the guest becomes a pawn as computers consume our time, attention and distract reception clerks from us humanoids, who, to misuse Eagleton's term, become "non-beings". The other non-beings in queue were stalled while we were connecting to a remote booking site rather than being processed at the counter.
While the software, computers and internet were slowing everything down, the hotel had been unable to fix a continuous leak in my bathroom, and had to relocate me to a much smaller room, but still the computer charged me the same amount. No discount offered for inconvenience, water leaking from the ceiling, or getting the guest to do all the clerical work to get booked in for the extra night.
But I did get a "smart" electronic lavatory in my second room that sprayed, washed, enabled cold and hot massages, beeped and bleeped, was splash proof and fitted with a nightlight and bacteria and worm killing chemicals. One could hip wash and have safety protection and the toilet I suspect delivers some other unmentionable services too risqué to mention here.
Happily, the lav did not need to be controlled via an internet or cellphone app, but it does need an instruction manual and I did not lose my chastity!
Reference
[1] http://www.prospectmagazine.co.uk/magazine/terry-eagleton-email-internet
Keyan G Tomaselli is a Distinguished Professor, University of Johannesburg, and Professor Emeritus and Fellow, UKZN, where neither campus sports smart toilets, and where one is lucky if the bowl still has its seat.
Disclaimer: The views expressed in this column are the author's own.