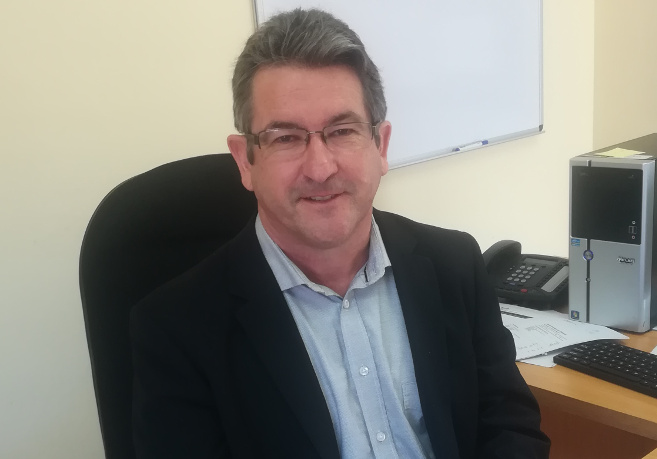 Improving Access to Mental Healthcare
Dr Peter Milligan, Chief Psychiatrist with more than 30 years of experience in the public health sector who recently joined Ngwelezana Hospital, Empangeni, as Head of the Psychiatry Department, says his main strategic mission is to work towards integrating mental health care into the primary care system.
His appointment comes at a point where there is a strong need for skills transfer for the growing number of medical students decentralised in northern KwaZulu-Natal healthcare sites. In particular, he will develop cost-effective counseling and brief psychotherapy services for people in Uthungulu, UMkhanyakude and Zululand districts.
'I am very excited about returning to rural medicine and aim is to work towards improving public mental health and access to mental health care. It's very exciting to join a team of committed professionals working in the area. The main focus areas will be Primary Health Care services; Hospital Services; Child and Adolescent services and Substance Abuse,' said Milligan
He qualified as a psychiatrist at the University of Cape Town however prior to that, he had spent 15 years in the Eastern Cape working in primary health care and health service management. Following that, he returned to Cape Town to specialise in psychiatry and stayed on in Cape Town for 18 years on a joint specialist appointment with the Western Cape Department of Health and the University of Cape Town. For the last eight years, he has been the Clinical Head at Valkenberg Hospital and has been leading the UCT registrar postgraduate training programme.
Said Dr Milligan, 'I have been looking for an opportunity to return to rural medicine. When the opportunity to join Ngwelezana Hospital presented itself, I couldn't say no. As psychiatrists, our aim is to take on the challenge of moving from an illness model of mental health to a more integrated and patient-centered recovery model,' he said.
The doctor was drawn to Psychiatry since he was a Medical student. As a result of his youngest brother's autism (neurological disorder), he became fascinated by the brain and how it works. He believes that Psychiatry provides an ideal opportunity to go into depth with patients and as a discipline, provides fascinating opportunities to explore related disciplines such as Neuroscience and Psychology.
'Dr Milligan is joining a Department of Psychiatry that is concerned about providing optimal mental health care and improving the quality of life for all the people of KwaZulu-Natal, particularly those that are based in the underserved rural areas. This will only be accomplished by strengthening primary health care with supervision from mental health care specialists,' expressed Professor Bonga Chiliza, Head of the Psychiatry Department at the University of KwaZulu-Natal.
Words: Lihle Sosibo
Photograph supplied by Ngwelezana Hospital