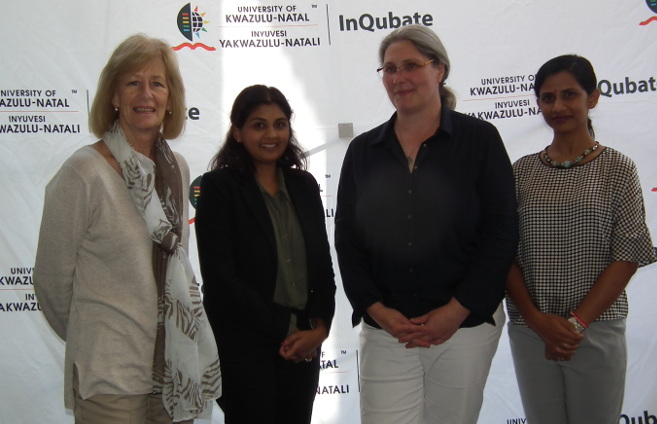 Women in Innovation and Creativity Celebrated on World IP Day
The brilliance, ingenuity, curiosity and courage of women who are driving change in the world and shaping the common future were celebrated at the Annual Word Intellectual Property (IP) Day event on UKZN's Howard College campus.
World IP Day aims to highlight the role intellectual property rights (patents, trademarks, industrial design, and copyright) play to encourage innovation and creativity.
The theme of this year's event was Power Change: Women in Innovation and Creativity. It celebrated women driving change in the world and shaping the common future.
InQubate - a division of UKZN responsible for insuring research done at UKZN is developed into solutions for society - collaborated with Spoor & Fisher Attorneys to commemorate the day.
Principal Officer at InQubate Ms Nonkululeko Shongwe described the event as very successful. 'More than ever before, women are taking up leadership roles and making their voices heard in the science, technology, business and arts fields. This is good news. With women and men working together, we strengthen humanity's hand and improve our ability to enrich our shared cultural wealth. This also assists in developing effective solutions to alleviate poverty, boost global health, and safeguard the environment,' said Shongwe.
Guest speakers at this year's event were Dean and Head of the School of Engineering, Professor Cristina Trois; Director of the South African Sugarcane Research Institute (SASRI), Dr Carolyn Baker; Ms Tertia Beharie of Spoor & Fisher Attorneys, and Professor Annegret Stark of the Sugarcane Biorefinery Research Chair.
In her presentation, Stark reflected on her successful journey as a woman innovator in science and engineering.
Baker's address was titled the value of Intellectual Property at SASRI: Protection in an Agricultural Industry Context, in which she highlighted the value of IP and how new cultivars of sugar could improve variety.
Beharies spoke on women who are inspiring inventors. She highlighted the following individuals:
Ms Jessica Matthews, a Nigerian-American inventor, CEO and venture capitalist who is the co-founder of Uncharted Power. Unchartered Power was instrumental in developing, Soccket, a soccer ball which can be used as a power generator
Ms Lesley Scott, an Associate Professor in the Department of Molecular Medicine and Hematology at the University of the Witwatersrand in Johannesburg. Scott invented the Smartspot Tbcheck which examines the accuracy of machines used to detect TB
Ms Tatenda Ndabakuwa, who invented the Shiri mobile phone app which allows African farmers to better manage food production system, through sharing equipment, knowledge, and marketplaces
Ms Thato Kgatlhanye, who at the age of just 21 founded Repurpose Schoolbags
Words: Manqoba Hadebe