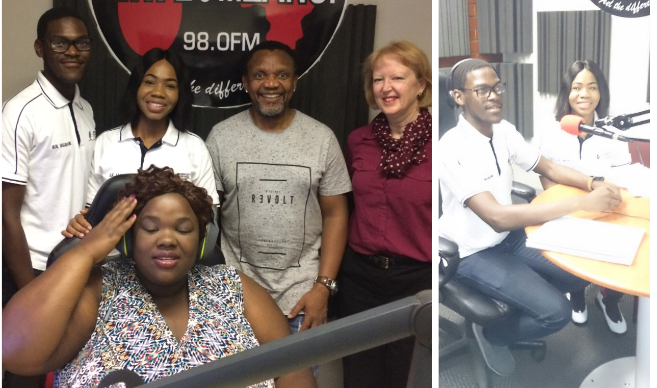 Fourth-Year Nursing Students Engage Radio Listeners on Dementia
Fourth-year Nursing students; Ms Slindile Madela and Mr Bonginhlanhla Ngubane recently spoke to the Izwilomzansi community radio station about dementia in the context of human rights.
Madela and Ngubane are currently doing their Psychiatric Nursing module and were interviewed by radio host Sindi Shezi on the "Senza Kwenzeke" Show, with the aim of deepening the public's knowledge of dementia in the elderly.
The interview explored aspects of dementia such as: definition, causes, common signs and symptoms, importance and role of family and community in the management of this disease. Other aspects of dementia that were discussed included the fact that it is a progressive disease with different stages, the importance of accessing treatment, where to find help and human rights of people living with dementia since their rights are sometimes violated . In some communities people who suffer from dementia end up being labelled as witches if they are found wandering at night.
'Being on the radio was quite an experience and a pleasure, we were very delighted to be given this opportunity. And we were humbled by the great feedback we received,' said Madela and Ngubane.
They further acknowledged their lecturers Dr Sipho Mkhize, Mrs Ann Jarvis and Mrs Winnie Cele for assisting them to prepare for this interview.
Nursing Discipline Academic Leader, Professor Gugu Mchunu said the station occasionally approaches the Discipline for health issues, 'for this topic, a decision was taken that students will be given a chance to be interviewed since they are final-year students doing Psychiatric Nursing, and dementia is related to mental health problems.'
Words: Nombuso Dlamini