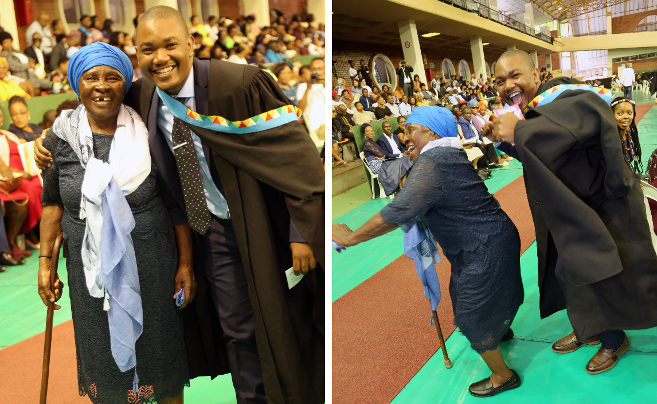 Against All Odds
A young KwaZulu-Natal man pursued the field of Law after his father was unfairly detained in 1995.
Mr Lungelo Nzuza graduated with a Bachelor of Social Science degree in Law and Politics at the University of KwaZulu-Natal (UKZN).
Nzuza, who hails from KwaMqubeni in Nkandla, in northern KwaZulu-Natal, said with his degree he hopes to empower and educate those who are victims of an unjust system. He was also fascinated by the interrelatedness between politics and law.
'My father was unfairly detained while serving in the South African National Defence Force. He was later released on parole, but I believe that at that time, he was not given a fair trial. I want to be the voice for the voiceless.'
He was most thankful to his grandmother, Mrs Zalelaphi Ndovozi MaNxumalo Nzuza, who he described as his hero.
'I am where I am today because of my grandmother. There were times when she sent me R200 of her grant money to help me cover my rent and groceries.'
'When I enrolled at UKZN, I prayed that my grandmother would be here to see me graduate and she was here. I couldn't have done this without her.'
'Uyiqhawe ZwideKaLanga, Mkhatshwa wangezinde nezimfishane, ngiyambonga uNkulunkulu ukungigcinela wena kuze kufike lolusuku. Ngibonga uthando lwakho, inhliziyo yakho emnene, nokuhlala njalo ungifisela okuhle.'
Nzuza was also excited to be the first male in his family to graduate. 'I feel I have made education fashionable in both my family and village since most people do not make it to university, some due to finances and others because of a lack of information. It feels amazing to be a trendsetter,' said Nzuza.
As a Social Scientist pursuing Law, he is adamant that his degree will be used to benefit society. 'I believe that through law and politics we can educate our people and represent those who suffer unfair prosecution as they lack the knowledge.'
To future graduates he offered the following advice: 'Be persistent, work hard and stay on your own lane. Never make a mistake of comparing yourself with anyone, be it friends or classmates.
'You must run this race with patience and tenacity, at the end it will pay off. I believe God has destined all of us for greatness but in our own time and season.'
Nzuza is currently pursuing an LLB degree at UKZN.
Words: Ziphezinhle Silindile Biyela