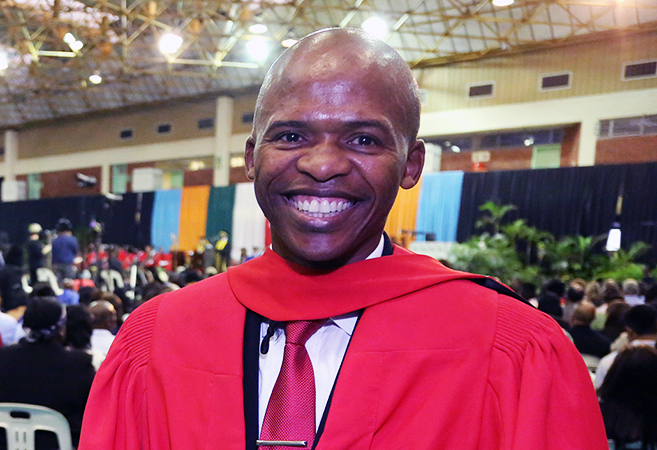 Doctoral Study Explores Economic Growth Opportunities for the Eastern Cape
Concern for slow economic growth rate in the province of the Eastern Cape (EC) prompted Graduate School of Business and Leadership (GSB&L) academic, Dr Bhasela Yalezo to embark on a research study titled Advancing Gross Fixed Capital Formation Paradigm in the Eastern Cape Province of South Africa which earned him a doctoral degree in Business Administration in April.
Under the supervision of UKZN Economist and academic Dr Gerry Bokana, Yalezo's thesis is an answer to a question that emerged in the Eastern Cape Development Plan which sought to establish the factors that impacted on the rates of investment from both the private and public sectors.
Yalezo's study revealed that the lack of adequate infrastructure, an integrated investment model and strategy as well as poor political leadership at provincial and local levels were significant contributors to low investment rates. 'The province does not have an aggressive internal and external investment marketing drive and there is an ambiguous articulation of why the EC is an investment destination,' he said.
In order to change this bleak picture Yalezo's study recommends prioritising investment in infrastructure which has a potential to enable the province to improve its contribution to the Gross Domestic Product (GDP) if underpinned by intelligent public sector investment. He believes this strategy will entice investors and lead to industrial expansion and enhance returns on investment in physical capital. He also added strong political leadership and a capable administration as ingredients that will contribute to improved economic growth in the province.
Yalezo has been a participant in the Accelerated Academic Development Programme of the University which is aimed at increasing the number of Black African academics with doctoral degrees. His new achievement also enables the University to realise its transformation agenda.
Commenting on his achievement he said: 'I feel it is a monumental stepping-stone to greater things yet to come. A doctoral degree gives you the platform to be recognised by other universities in the whole world.'
He is currently enrolled as a part-time student in the LLB programme at UKZN which he juggles with lecturing Economics to Local Economic Development Practitioners at the GSB&L.
On his LLB journey he said: 'I have always been inspired by professionals and academics such as professors and advocates of the high court Bonke Dumisa and Walter Geach who were my lectures. They were very diverse in the professional spectrum. I am moving in that direction.'
Words: Hazel Langa