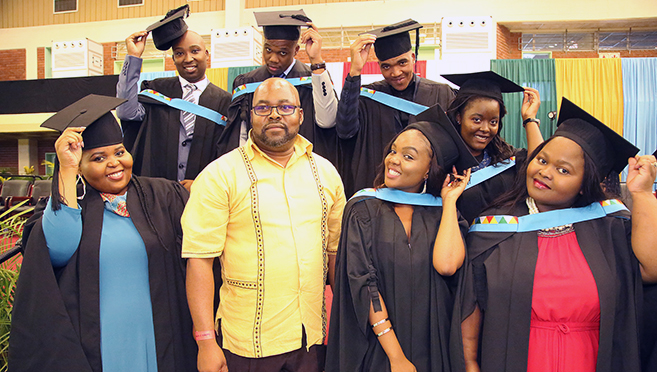 Graduates Celebrate Being Awarded Master's Degrees in Housing and Town and Regional Planning
Eleven students graduated with Master's degrees in Housing and Town & Regional Planning.
They were: Mr Thembinkosi Malinga, Mr Clayton Marais, Mr Xolani Phohlo, Ms Nombuso Qwabe, Mr Malusi Shezi, Ms Lungile Zulu, Ms Jabulisile Zungu, Ms Nomzamo Mdladla, Ms Zinhle Mnikathi, Ms Zukiswa Nguza (posthumously) and Mr Xolani Msomi.
Malinga investigated low-income housing related challenges and their impact on completing the Umlazi and Mpumalanga Housing Projects. His research was aimed at uncovering the challenges encountered during the construction of low-income housing and how they have an impact on completing housing projects on time.
'In terms of housing development in South Africa, the delivery of low income housing is a vital process in providing satisfactory housing for the less fortunate, in an effort to decrease poverty and improve the quality of lives. South Africans have the right to access adequate housing. The government has provided housing but the houses are not delivered on time,' he explained.
Malinga found that project managers experienced challenges from the conceptual stage to the hand over stage. He said project managers had to know how to manage exceptions and risks.
Mdladla, who graduated with her Masters in Town and Regional Planning, evaluated the relevance of the Mpumalanga town centre in the eThekwini Municipality region meeting the social, economic and political needs of the township. She found that the development of the town centre had been effective in improving the socio-economic needs of the township.
'The introduction of the Mpumalanga town centre as a major node has also helped to improve service delivery. The local municipality needs to introduce further developments in the township in order to address the service backlogs and inequalities of the past,' said Mdladla.
UKZN's Mr Vincent Myeni, who supervised all 11 students, said: 'This is a significant milestone for both students and the school. Today we celebrate the culture of determination and hard work. Student supervision is a challenging exercise but I was motivated to have worked with these students because this meant that one had to broaden the knowledge base both technically and theoretically.'
The students and Myeni worked as a team, providing encouragement to each other. 'Some of the students used to cry for various reasons. However, now it is rewarding to see them cry tears of joy as they celebrate their success. Their celebration emanates from the fact that some of them have started their own businesses, some are employed full time in both private and public sectors while some are furthering their studies both locally and internationally.
'As a supervisor, I have passion for students, and seeing them succeed inspires me,' said Myeni.