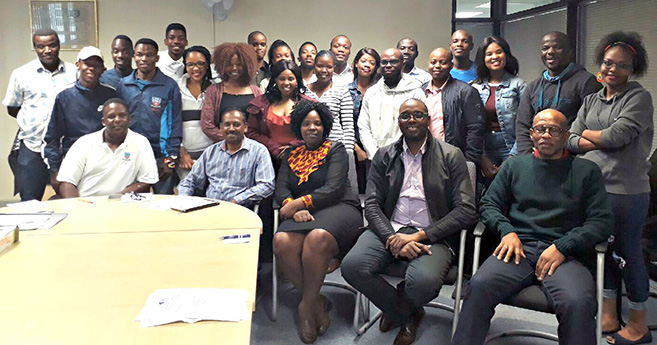 UKZN hosts Town Planning Students from the University of Botswana
The School of Built Environment and Development Studies (BEDS) recently hosted eight Town Planning students from the University of Botswana for an interactive learning session and workshop.
The session, held at the Howard College campus, was attended by lecturers in Town Planning, the acting Dean Professor Ernest Khalema, UKZN Town and Regional Planning, masters and PhD students. It was facilitated by UKZN senior lecturer Dr Hope Magidimisha and Mr Colin Pillay from the eThekwini Municipality.
'This workshop session is part of our plan for collaborative work efforts for internationalization at UKZN and dovetails into our strategic and transformation plan. This also allows for future collaborations between UKZN and the University of Botswana,' said Magidimisha.
The visiting students interacted with UKZN academics and second year masters students, comparing notes and discussing in depth different planning practices. Dr Koyi Mchunu delivered a lecture encouraging students to rethink new ways of planning. Mr David Duma gave concluding remarks in which he urged the visiting students to maintain contact with their UKZN counterparts.
'The fourth year Town planning students engaged with planning related line department officials in the city. Both the Municipal Institute of Learning (MILE) and the University of Botswana have developed a relationship over the past six years and have benefited tremendously from the Durban experience. Peer-to-peer learning offers our local students a good opportunity to glean from the Botswana experience,' Pillay said.
The students were in Durban for two weeks, spending their first week with the Municipality engaging on various planning issues, and the second week of their trip was spent on various community based projects in and around eThekwini that is aimed at improving informal areas.
Khalema said the initiative forms part of the linkages the School is working on as it aims to attract the best students from the continent as part of its internationalisation strategy.
The students were introduced to historical and colonial influence on town planning in South Africa; urban transportation experiences; sustainable cities and environmental resources management; best practice initiatives at the eThekwini municipality and even infrastructure planning and management experiences.
Words: Melissa Mungroo