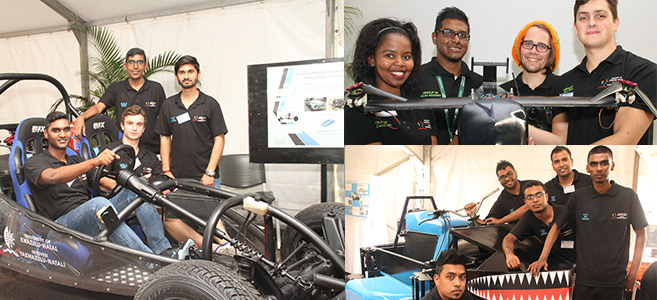 Mechanical Engineering Open Day a Resounding Success
A collapsible hand bicycle, a cleaning system to rehabilitate used bricks, a turbine pump to improve water access for rural communities, a flying car, a rocket testing facility, a smart house and a whole lot more were on display at UKZN's Mechanical Engineering Open Day.
The annual event on the Howard College campus provided a unique opportunity for final-year Mechanical Engineering students to demonstrate and display their innovative projects to evaluators, sponsors, parents and the general public.
To fulfil part of degree requirements for Design and Research Project modules, 21 groups of three or four students from the final year class were allocated projects to develop over the year. This required the application of skills and knowledge gained throughout their studies to meet set objectives while working within predetermined budgets and time frames.
Prototypes produced over the nine months of the project duration demonstrated varied applications of engineering skills and fields, including vehicle design, green energy technologies, renewable energy harvesting systems and industrial machines.
Engineering students showcased work which will stand them in good stead as they prepare to enter the workplace.
Projects were assessed according to the Engineering outcomes required by the Engineering Council of South Africa (ECSA).
The day included discipline demonstrations, postgraduate research displays and technology demonstrations, including interactive displays such as the UKZN pedal bus electric trikes and the rally car simulator, demonstrations of the rocket display unit, the unmanned aerial vehicle (UAV) and a mobile robotic display.
There was also an exhibit of vehicles illustrating the evolution of the motor vehicle.
'Participating was a real pleasure and we thoroughly enjoyed the projects,' said Mr Paul Canter of the Fulton Trust, who was the guest speaker.
A number of prizes were awarded to groups for their work:
* The Best Industrial and Commercial Potential Award went to a group who devised an SPS Rolling Mill
* The Best Research Content Award was presented to a team who developed a Small Scale Cold Spraying Process
* The prize for the Best Engineering Display Category 1 was won by the eBeetle group with the VTOL Winged Flying Car team taking second prize
* The Best Engineering Display Category 2 prize went to a group who developed a Laboratory Sugar Cane Billeter, with second prize awarded to a group working on a Massecuite Boiling Visualisation
Words: Christine Cuénod