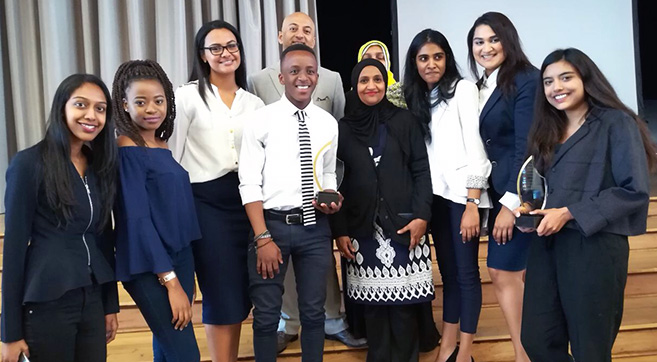 SHS Research Day Showcases Profound Student Research
A total of 10 research presentations by final-year students from each of the School of Health Sciences disciplines were heard by adjudicators at this year's Young Health Scientists Research Symposium on the Westville campus.

The symposium was opened by the Dean and Head of School, Professor Mahmoud Soliman, and was led by School's Academic Leader for Research, Professor Johan van Heerden, assisted by three chairs, Dr M Nlooto, Dr S Singh and Professor Mershen Pillay.

The winning presentation in the laboratory-based research category - titled: Sensitive Electrochemical Sensor Based on Gold Nanoparticles Decorated Graphene Oxide/Poly-cystamine Composite for the Determination of an Antimalarial Drug - was delivered by a group of honours students from the Synthetic and Medicinal Chemistry Research Group (SMCRG), Discipline of Pharmaceutical Sciences, College of Health Sciences, UKZN.

The study aimed to develop a chemical sensor for the quality control and quality assurance (QAQC) of antimalarial drug (Amodiaquine). This was achieved by modification of the glassy carbon electrode with gold nanoparticle decorated graphene oxide/poly-cystamine composite.

It was found that, the fabricated sensor exhibited an enhanced voltammetric response, which was attributed to the excellent conductivity and high surface area of the novel nanocomposite material.

According to the group, Ms TP Vilakazi, W Zulu, AS Ngubane, K Mohanlal and NZ Dlamini, the study has demonstrated a promising technique for the determination of quality control of pharmaceutical drugs. The modified electrode exhibited excellent stability, reproducibility, selectivity over common interferents and was approximately 300 times more efficient than the reported techniques. A manuscript has been drafted and will be communicated to a peer reviwed international journal of high impact. The nanocomposite material is further being exploited in developing a biosensor for the early detection of malaria.

A group of five Audiology students; C Charles, A Mkhulisi, N Mkhwanazi, H Moustache and N Naidoo scooped the prize for clinically-based research in a descriptive study that aimed to determine infection prevention and control (IPC) measures implemented by Audiologists/Speech therapists and Audiologists (A/STAs) in public healthcare facilities in KwaZulu-Natal.
The study found that despite training and availability of policies, some participants displayed poor IPC practices in terms of universal precautions, personal protective equipment, handwashing and disinfecting/ sterilisation. It is recommended that further appropriate education, training and awareness related to effective and affordable IPC measures is effected to reduce the potential for cross-contamination and/or transmission of infection in clinical settings given the expanding scope of audiology practice in view of the quadruple burden of disease in South Africa.
A presentation investigating the healthcare experiences of adults with Down syndrome and their caregivers in KwaZulu-Natal won two Speech-Language Therapy students; Ms S Govender and Ms F Haffejjee an award in the community-based research category. Their study revealed that adults with Down syndrome accessed both public and private healthcare services for various medical conditions. Previous negative incidents included incorrect administration of medication and a request to divulge personal information.

The communication profile of the participants influenced their ability to communicate effectively with health care professionals, thus shaping their healthcare experiences to be positive. All caregivers acted as health care advocates for the adult with Down syndrome and to create awareness of Down syndrome, facilitate positive health experiences and prevent a communication breakdown during clinical interaction. Implications for maintaining and improving positive healthcare experiences for individuals with Down syndrome, implications for speech-language therapy and limitations of the study were presented.

On the panel of independent adjudicators, which included SHS' Academics; Professor Kitty Uys, Dr Hamilton Pharaoh and Dr Rajshekhar Katpoormath, was member of Faculty at Africa Health Research Institute (AHRI) and a Professor of International Health at the London School of Hygiene and Tropical Medicine (LSHTM) Professor Alison Grant.

Grant's main research interest is improving care for HIV-positive people in resource-limited settings, and preventing tuberculosis (TB). She delivered an insightful presentation on a new TB diagnostic test replacing smear microscopy.

In his message, College Dean of Research, Professor Moses Chimbari described the Young Health Scientists' Research Symposium as a forum which provides undergraduate students with an opportunity to showcase their studies and to gain the experience of public critique annually.

Adjudicators encouraged all the presenters to stay on and pursue postgraduate studies in the College upon completing their final year at UKZN.
Words: Nombuso Dlamini