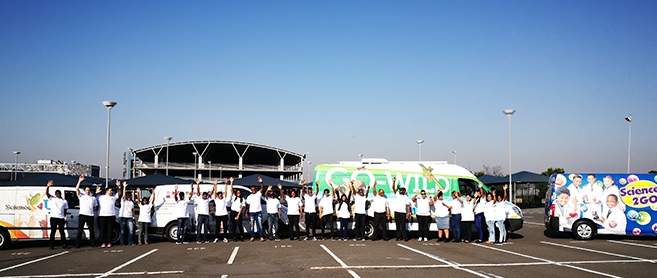 Umjikelezo We-Science Roadshow Promotes Science in Rural KZN
The Umjikelezo We-Science collaboration recently held a roadshow in the Hammarsdale, Tongaat and Umbumbulu areas to further its mission of taking Science to rural Kwazulu-Natal.
The three hour daily roadshow programme, held from 5 to 7 September, reached up to 2 100 learners.
It included a 45-minute science show aimed at transferring scientific knowledge and promoting science literacy in a fun and interactive way. Organisers also arranged a 45-minute career talk which gave learners an overview of the various careers in the field of science, agriculture, mathematics and engineering. This also involved communicating the relevant university entrance requirements and the need for core Maths (and Physics, for learners interested in studying Engineering). The final 45 minutes involved "science busking" where learners engaged with science on a personal level by conducting science experiments themselves.
Umjikelezo We-Science targeted learners from grades eight to 10 to encourage an interest in Science, Technology, Engineering and Mathematics (STEM) careers and to improve enrolment in high school Mathematics and Physical Science.
'Umjikelezo We-Science has been an amazing and rewarding experience that we definitely want to continue next year,' said organiser Tanja Reinhardt.
'The project is a first for South Africa and we hope that it will serve as a role model to other Science Centres, Museums and organisations on what one can achieve by partnering; in the true spirit of Ubuntu it was not the member organisations going out to the schools, but Umjikelezo We-Science.'
Umjikelezo We-Science is a co-ordinated effort by the Centre for the Advancement of Science and Mathematics Education (CASME), Science2Go, the Durban Natural Science Museum, the KZN Science Centre, the UKZN Science and Technology Education Centre (STEC) and the UNIZULU Science Centre and Kitchen Chemistry. Each participating organisation donates its time and resources to the cause.
The event worked without any outside funding other than the sponsorship of banners from the Durban Natural Science Museum and t-Shirts by MAHLE Behr.
Umjikelezo We-Science draws its name from the isiZulu word Umjikelezo, meaning circle, which is related to a cultural practice of church groups taking their message on the road to communities. Modelled after pioneering science outreach Science Circus Africa, Umjikelezo We-Science organisers aim to engage, inspire and promote STEM in an exciting, interactive way throughout KwaZulu-Natal to communities that are inaccessible to science centres and their services.
CASME's Henre Benson noted that science centres traditionally focus on "in-reach" services, but in the province with the largest number of science centres, museums and other STEM public facilities in South Africa, the need for "outreach" is becoming increasingly important. This makes the province ideal for this unique, ground-breaking collaboration.
'The KZN Science Centre is extremely excited to be part of this inspirational project,' said Education Officer Ms Celiwe Chauca. 'It is only by working together that we can address the enormous challenges facing our learners, especially in the fields of Science, Technology, Engineering and Maths.
Words: Christine Cuénod
Photograph supplied by Henre Benson