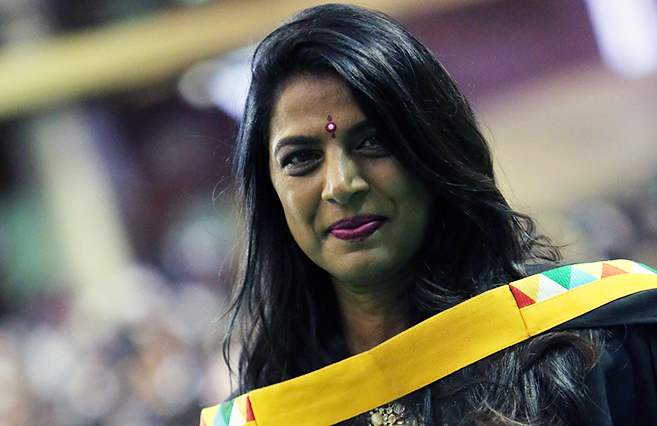 Bachelor of Business Administration cum laude Graduate Proves it's Never Too Late to Study Further
'You need to get a degree if you accept this post.' These words motivated Ms Sagree Pillay to do just that!
Pillay graduated with a Bachelor of Business Administration cum laude degree from UKZN during the Spring Graduation ceremonies.
Pillay, a Senior Administrative Officer of Clinical Medicine at the College of Health Sciences, says getting feedback from an interviewer regarding the need for her to upgrade her qualifications is what spurred her on.
'Three years ago, the University underwent a restructuring process. After 30 years of service my colleagues and I were placed in a pool and had to apply for posts. It was then I decided to pursue the degree,' said Pillay.
'I cannot say that filled me with joy. On my first day in class my thoughts were, God how am I going to cope? My fellow students are fresh out of high school and I am probably the oldest student in class and will be grasping things more slowly than the younger vibrant group. Working and studying was challenging but as a class we shared challenges and helped each other, creating a supportive environment free of judgement. Credit also needs to be given to our patient lecturers who were willing to go over concepts that we had difficulty understanding and being available after lectures to assist.'
Pillay dedicates this achievement to her husband, Ravi, her sons Maheshan and Megan; her extended family for their support and her classmate Jabulani Sibiya (JB) who passed away tragically last year. She is grateful to her night study buddies Merusha and Dhirou who didn't think that passing cum laude was out of her reach.
Words by: Thandiwe Jumo
Photograph by: Abhi Indrarajan