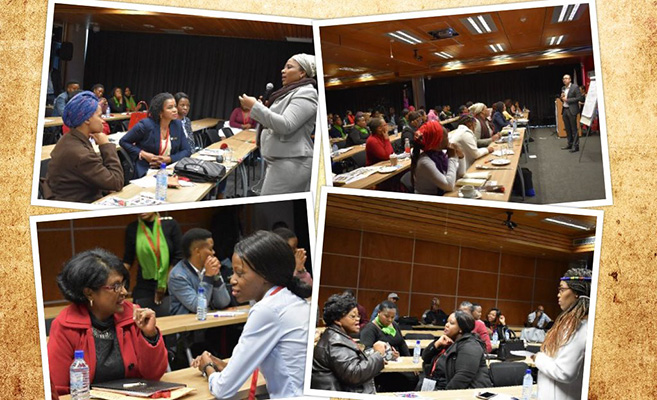 Tackling Gender-Based Violence on University Campuses
The Sexual Reproductive Health and Rights (SRHR) of South African students took centre stage at a seminar on UKZN's Medical School campus.
The seminar was an initiative of the HIV and AIDS Programme (Student Services Division) at UKZN, regional government bodies and a variety of institutions in KwaZulu-Natal (KZN).
Speaking on behalf of the Medical School Women's Forum, Ms Ayanda Khoza said new ideas were needed to address issues facing students at universities around the country. 'Old ways won't open new doors,' said Khoza.
She called for sanitary/menstrual pads to be supplied to female students and highlighted the scourge of "Blessers" who prey on female students.
Referring to "Blessers", she said: 'We are born frees but at the end of the day, are we really free?'
Deputy-President of the Central SRC, Ms Lerato Ndashe, spoke about her harrowing experiences with Gender-Based Violence (GBV), advising all those present to 'leave, run and never go back,' when a man first raises his hand in anger. 'Just run away my sister, you'll get a better one,' she said to thunderous applause.
The Director of Higher Education and Training HIV/AIDS Programme (HEAIDS), Dr Ramneek Ahluwalia, discussed "Draft Zero", a new policy geared at addressing rape, sexual harassment and all other forms of gender-based violence on South African university campuses.
Echoing speakers before him, Ahluwalia emphasised the importance of accessibility to GBV policies and affirmed the importance of the role of universities. He said the support of the youth was vital in transforming South Africa and called for champions to take up the fight against GBV. 'If you miss this population group (the youth), the country will never transform,' he said.
Issues highlighted at the seminar included GBV and Sexual Assault, Youth Friendly Services, Women's Health, and Behavioural factors.
Representing the Women's Forum on the Howard College campus, Ms Noluthando Khawula said GBV and sexual assault at UKZN could not be dealt with using the same rules as other "crimes". 'You can't handle rape the same way you handle cheating in an exam,' she said.
Khawula stressed the importance of having the correct measures in place at universities to deal with GBV and those measures should be accessible to all students. She added that security personnel needed to be trained to deal with victims of sexual assault.
Measures to address reporting crimes on campus included developing an app and ensuring proper case management.
The session on Youth-friendly services revealed the need for a clinic geared towards young people while the Women's Health Track addressed contraception, termination of pregnancy, sanitary pads and pap smears.
The session on Behavioural factors focused on family, structural and social factors, which included poverty, and drug and substance abuse.
UKZN HIV and AIDS Programme Co-ordinator Mx Nomonde Magantolo spoke on the importance of creating a 'conducive, enabling environment for students'.
In closing, the KZN Department of Health and the KZN Legislature pledged to partner with institutions in the province to tackle GBV among students.
Words and photographs by: Raylene Captain-Hasthibeer