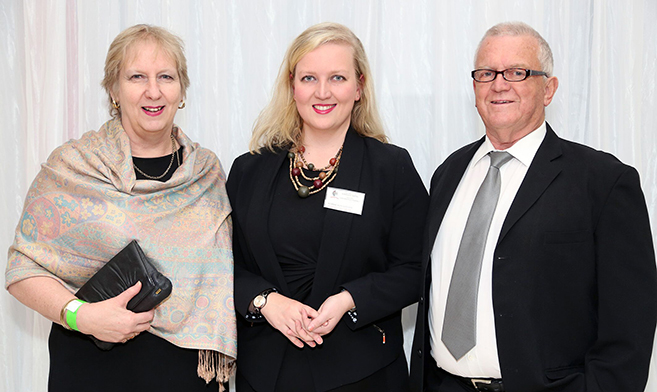 TB Davis Scholarship Awardee Always Gives of Her Best
Masters in Bioresources Engineering candidate Ms Roanne Sutcliffe has been awarded the TB Davis Scholarship, an award given to top postgraduate students in Engineering.
The scholarship is named after Thomas Benjamin "TB" Davis, the University's first major private donor who funded the entire cost of the Howard College building in memory of his son, Howard Leopold, who died from injuries incurred during the Battle of the Somme in France in 1916.
Sutcliffe's interest in Engineering was sparked by her lifelong fascination with the environment and how things are made, thus UKZN's offering of Bioresources Engineering was the perfect fit for her interest in the human-environmental relationship. With increasing pressure on the environment to meet a growing population's needs, Sutcliffe sees a huge demand for agricultural and environmental engineering so that these needs can be met without incurring irreparable environmental damage.
'What I most enjoy is the variety of challenges presented by the field and the fact that they are dynamic,' said Sutcliffe of the subject.
She is grateful for the scholarship, saying that it is rewarding to have recognition for her hard work and dedication to her studies.
Sutcliffe describes herself as very driven and highly competitive and says these traits motivate her to keep striving to do well.
'I was raised to have the belief that if you're going to do something, you should do your best,' she said.
While Engineering studies do not leave much free time, Sutcliffe dedicates time to tutoring Mathematics and Science to high school learners in the evenings, having always loved to help people learn. She is passionate about learning herself and hopes to dedicate more time to travelling once she is done with her studies. She is also the secretary of the KwaZulu-Natal branch of the South African Institute of Agricultural Engineers.
Sutcliffe is considering various options for her future and these include consulting engineering, as well as in the link between engineering and policy-making. Going into research in the latter is also a possibility on the horizon, perhaps for later PhD studies.
She thanked her parents for their influence in her life and for instilling a good work ethic and inspiring her to do her best. She also credited Professor Jeff Smithers for encouraging her to find solutions to problems, work hard and never settle for mediocrity.
Sutcliffe encouraged other students to give their best in all they do.