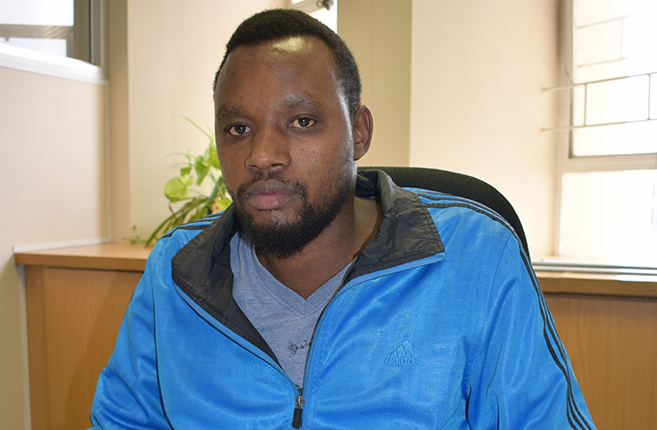 PhD Scholarship and Internship for Masters Candidate
School of Accounting, Economics and Finance (SAEF) postgraduate student Mr Shadrack Mutembereza has received an internship and PhD scholarship at UKZN's Health Economics and HIV/AIDS Research Division (HEARD).
This was made possible through the intervention of the SAEF Macroeconomics Working Group (MWG) and HEARD.
Candidates for the internship programme are recruited for a period of a year and are allocated to the HEARD programme in the following specialist areas: disability, health and livelihoods; gender equality and health; health governance and finance, and health systems strengthening. Trainees are guided by senior researchers to sharpen their research and policy analysis skills in an environment that strives for excellence in learning.
Mutembereza is currently completing his master's degree and is working on a paper that aims to study individual health mobility among adults in South Africa. The research work, the first of its kind in South Africa, is being supervised by Economics Lecturer, Dr Josue Mbonigaba.
'The dissertation aims to examine the problem of health inequality in South Africa. I started off by investigating if health mobility is different amongst diverse groups of individuals. Then in an attempt to understand the health inequality; I investigated the cause of these differences,' said Mutembereza.
Speaking at the scholarship award ceremony, the Head of Research at HEARD, Dr Kaymarlin Govender, said his organisation will continue working with MWG and SAEF to mentor and develop young scholars for a career in applied health research.
'HEARD is committed to developing young and talented graduates from Africa to take a leadership role in advancing the health agenda on the continent,' he said.
'Mentorship activities will include guidance on developing academic papers, exposure to international research projects and instruction on conceptualising PhD research through our Doctoral training program,' he added.
Speaking on behalf of MWG, Professor Harold Ngalawa thanked HEARD for supporting the group's research initiatives, which include reducing the financial burdens of students thus helping them concentrate on their studies.
'I am grateful to HEARD for the opportunity, particularly the internship because it will help me to expand my potential. It is a life time opportunity for me and I will take full advantage of the opportunity to learn as much as possible,' said Mutembereza.
'I am grateful to the Macroeconomics Working Group for negotiating with HEARD for this internship and the PhD scholarship,'he added.
Words by: Sibonelo Shinga and Harold Ngalawa