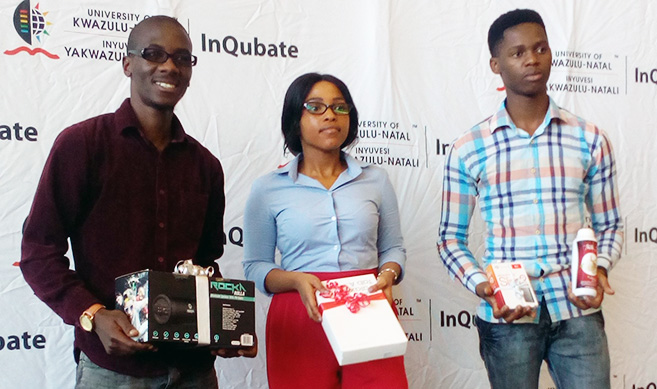 Elevator Pitch Excitement at Student Entrepreneurship Week
As part of Student Entrepreneurship Week, promoted by UKZN and the Department of Higher Education and Training, UKZN InQubate gave students tips on how to tackle the "Elevator Pitch" – the hard, quick sell of their business idea to prospective investors.
At the event held the Howard College campus, students were chosen to pitch their business ideas to a panel of judges, who also provided advice to the young entrepreneurial hopefuls, sharing their own experiences as entrepreneurs and giving tips about the do's and don'ts of business.
Among the judges were Ms Palesa Phile of MTN, Mr Deven Reddy of Suryan Leadership and Ms Mbali Bhengu of Mindswitch.
Ten students were selected to pitch their ideas, with each given three minutes to speak before the judges asked questions.
After much debate the winners were announced: First was Ms Nandisa Ngubelanga who won a Samsung tablet, sponsored by Adams & Adams, for her Ekhaya4U Student Accommodation Portal.
Ngubelanga said she felt excited her Ekhaya4U pitch was chosen as the winning concept. Her idea is for a website that would act as a portal to finding fast, reliable and hassle free accommodation for students.
'Just a few days ago, I was that person who thought this was not a good idea, it's been done before and there is nothing special about,' she said. 'But when I actually started preparing for this competition I realised I needed to take myself seriously because this idea could really work!'
Second was Mr Ndiphiwe Nondabu who won a 1 TB hard drive for his Thata Jolane idea and third was Mr Sandile Manyathi who received a wireless speaker for his Graduate Surety pitch.
Words and photograph by: Manqoba Hadebe