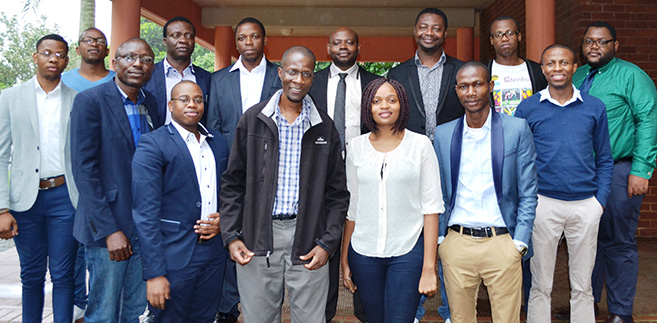 UKZN Research Group to attend Economic Discussion Forum in Grahamstown
Members of the School of Accounting, Economics and Finance's (SAEF) Macroeconomics Working Group (MWG), will present their research papers at the Biennial Conference of the Economic Society of South Africa (ESSA) at Rhodes University in Grahamstown beginning on 30 August.
The aim of the Conference is to promote the discussion of and research into economic matters, particularly those affecting South Africa.
Attending the forum is Dean of Research Professor Harold Ngalawa; Economics lecturer Dr Christian Tipoy; Accelerated Academic Development Programme (AADP) lecturers Mr Ayanda Meyiwa, Mr Simiso Msomi, Mr Ntokozo Nzimande and Mr Sanele Gumede, and PhD and Masters candidates Ms Lenhle Dlamini, Mr Ojo Adelakun, Mr Malibongwe Nyati, Mr Doctor Sangweni, Mr Joseph Akande, Mr Adebayo Kutu, Mr Mathew Rotimi, Mr Edson Vengesai and Ms Margaret Olarewaju.
The MWG believes that taking part in the Conference will increase the visibility and display the quality of research being conducted by UKZN.
'There are numerous macroeconomic questions that we do not have answers to,' said Ngalawa. 'There are also many empirical problems whose solutions have eluded policymakers. In South Africa, for instance, economic growth has been consistently very low, unemployment has been considerably high, inflation and interest rates are relatively high, savings rates are low, and the budget deficit has been growing. At the Conference our group will deliver a message that UKZN has a specialised unit and expertise to solve these and other problems,' he said.
Nzimande who is the Conference co-ordinator of the group says the MWG has progressed a lot since last year, with presenting their research papers at several conferences, not only in South Africa, but also in countries such as the United States of America, Hungary, China and France. They have also published research papers in local and international Journals such as the Journal of Economic and Behavioural Studies, the Inter disciplinary Journal of Economics and Business law and the South African Journal of Economics.
Moving forward, the MWG has plans to further advance macroeconomic research and host their own conferences at UKZN.
'Next semester we plan to invite the South African Reserve Bank's Professor Nicola Viegi to teach us the basics on how to run the Dynamic Stochastic General Equilibrium Model which attempts to explain impacts of shocks to the economic system. The most interesting part is that DSGE is formulated from microeconomic foundations, and therefore allows one to study more than one sector at once,' added Nzimande.
Words by: Sibonelo Shinga