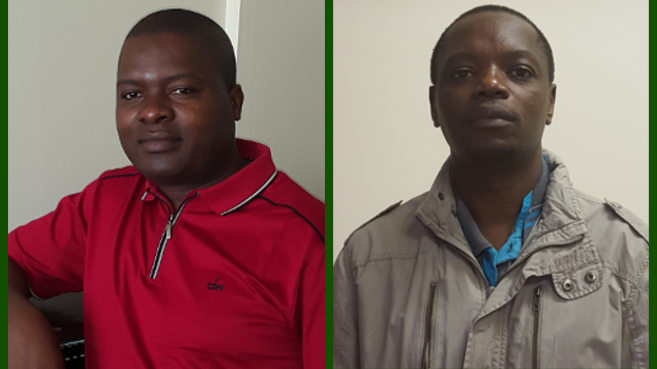 UKZN Academics Recognised as Top African Researchers
Professor Onisimo Mutanga, Acting Dean and Head of the School of Agricultural, Earth and Environmental Sciences (SAEES) and Dr John Odindi, senior lecturer in Geography, were recognised as being among the best scientific contributors in Africa in a publication launched at a celebration of Africa Day, by the Minister of Science and Technology Naledi Pandor in Freedom Park in Pretoria.
Mutanga was recognised for his expertise in vegetation pattern and condition analysis in the face of global and land-use change using remote sensing. He integrates ecology, biodiversity conservation and remote sensing to model the impact of forest fragmentation, pests and diseases and invasive species on agricultural and natural ecosystems. He received his PhD from Wageningen University in 2004.
Mutanga joined UKZN in 2005, and has supervised more than 16 PhD and 28 Master's students in the field of Geo-Information Science (GIS). He has more than 120 publications to his name. He holds an NRF B-rating and serves in several national and international research committees. He has been an editor and guest editor of a number of international journals and serves on several national and international research committees. He has collaborated on several projects concerning land cover/use in rural and urban environments, livestock production in a changing rural landscape, indigenous forest fragmentation and biodiversity management. He is a member of organisations like the African Association of the Remote Sensing of Environment (AARSE), among others.
Mutanga's research has included the development of innovative remote sensing approaches for providing timely and up to date information for improved proactive intervention measures in managing resources. His research focus has gradually shifted towards the automation and operationalisation of remotely sensed data in forestry, agriculture and rangeland monitoring.
Odindi's general interest is in applied remote sensing with specific focus on vegetation and invasive plant species mapping, urban green and thermal ecology, climate change, and remote sensing applications in precision agriculture.
Odindi is involved in the teaching of environmental systems, remote sensing, GIS and research methods. He has presented papers at a variety of conferences and was previously at the University of Fort Hare (UFH) before coming to UKZN in 2011. He received his Bachelor's degree in Environmental Science at Kenyatta University in Kenya, his Honours and Master's at UFH, and his PhD at the Nelson Mandela Metropolitan University (NMMU). He has more than 40 publications and has supervised more than 15 postgraduate students. He is a reviewer for several journals and research organisations, and collaborates with several local and international universities and research organisations that include the Universities of the Witwatersrand and Khartoum, the South African National Space Agency (SANSA), and the International Centre of Insect Physiology and Ecology (ICIPE).
Words by: Christine Cuénod