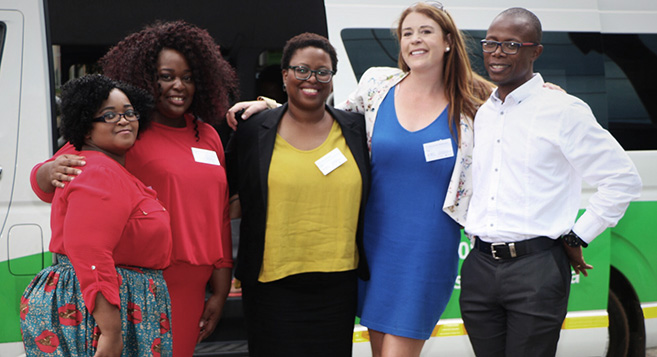 Academics to Serve on National Entrepreneurship Development in Higher Education Forum
Two UKZN academics have been selected by the Department of Higher Education and Training (DHET) to serve as conveners for the Entrepreneurship Development in Higher Education's (EDHE) Communities of Practice (CoP).
The academics, Dr Thea van der Westhuizen and Ms Malindi Kunene, are both from the School of Management, Information Technology and Governance.
Van der Westhuizen has been selected as a Deputy Convenor for Academic Entrepreneurship Development while Kunene is the Deputy Convenor for Student Entrepreneurship Development.
The forum focuses on Entrepreneurship in the Academic Space.
Elaborating on her role, Kunene said: 'There is a need to accelerate entrepreneurship and innovative thinking in our society. This goes beyond simply creating business entities and includes the development of individuals who are enterprising and can also provide organisations they work for with a sustainable competitive advantage.
'Through the adoption of this mind-shift, entrepreneurially trained individuals will use innovative thinking to solve problems and commercialise solutions. We will begin to see real change in economic development paradigms of this nation within the context of our country, the continent and the world at large. That is why it is important to develop youth and students who think in this way.'
Highlighting changes that have taken place in teaching practices in entrepreneurship, van der Westhuizen said: 'The pedagogy in the field of entrepreneurship is shifting from classroom teaching to action learning. Static and content-orientated teaching has become inappropriate in South Africa's complex and change-driven society.
'Traditional educational methods which focus on theory and an informative approach are inappropriate to the content and pedagogy for teaching entrepreneurship and don't prepare learners successfully as leader-entrepreneurs for the future. The experience and requisite skills that are essential for entrepreneurs cannot be imparted through conventional teaching methods.'
According to EDHE, the purpose of the CoPs is to develop entrepreneurship at Higher Education Institutions nationally by sharing relevant knowledge, resources and best practice; transferring practical skills; influencing policy; collaborating with relevant stakeholders in the public, private and non-governmental sectors; supporting and promoting national EDHE projects regionally and locally, and determining success indicators for EDHE.
Both top achievers in the entrepreneurship field, Kunene and van der Westhuizen contributed and presented innovative solutions to entrepreneurship development in Higher Education as applied and proposed by UKZN's School of Management, Information Technology and Governance at the recent Lekgotla.
The Lekgotla was organised by the University Branch of the Department of Higher Education and Training on Entrepreneurship Development in Higher Education.
The two academics were members of a UKZN team of five at the Lekgotla which debated academic entrepreneurship, entrepreneurial universities and student entrepreneurship.
The Deputy Minister of Higher Education Mr Mduduzi Manana said at the Lekgotla that the aim was to get more young people to develop an interest in entrepreneurship and to involve universities to catalyse that vision of entrepreneurship.
'Young people can become job creators and universities must be central in inculcating that culture of entrepreneurship in the minds of our young people.'
Manana said the growth of the country's economy rested on the shoulders of small businesses as well as the skilled and the educated members of the South African society.