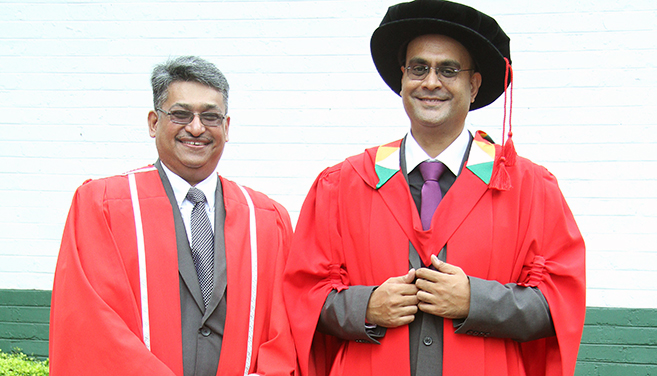 Research Offers New Insights in the Area of Business Rescue
Doctoral graduate, Chartered Accountant and School of Accounting, Economics and Finance academic, Dr Rajendra Rajaram says the lack of knowledge about South Africa's business rescue environment - the most sought-after solution for financially distressed businesses - is what motivated him to pursue research on the issue.
Through his research titled: "Success Factors for Business Rescue in South Africa", Rajaram diagnoses and ranks reasons for failed business rescues in South Africa with the aim of offering solutions for improving the success rate by establishing and ranking a set of factors to improve the chances of a successful rescue.
His study was supervised by Professor Anesh Singh.
'There are a lot of companies that are closing down due to financial distress and this is having a negative impact on our country's economy,' said Rajaram.
'Knowledge from this research will benefit business rescue practitioners, the financial sector, stakeholders of companies intending to go into business rescue and the Companies and Intellectual Properties Commission.'
Not only is Rajaram contributing knowledge to an area which has hardly been researched from a South African perspective but he is the first Accounting academic in the past five years to receive a PhD by full dissertation in the field.
'From an academic perspective this qualification will allow me to supervise PhD students and also improves my standing because not a lot of CAs have a PhD,' said Rajaram.
'I have also been accepted to deliver a paper based on my dissertation at the 8th European Business Research Conference in France later this month. I am looking forward to exploring the opportunities that this qualification will open up for me.'
He has also been selected for the Erasmus + mobility programme to lecture at the Jagiellonian University (JU) in Poland where he will visit the Institute of Economics, Finance and Management to deliver lectures and identify opportunities for joint research between UKZN and JU.
Said Singh: 'Raj was determined to be one of the first Accountants in a long while to obtain a PhD and burnt the midnight oil to finish within the time frame he had set for himself. Raj's achievement I hope will inspire other accountants to undertake postgraduate studies and to further the horizons of Accounting knowledge production. I wish him everything of the best in his academic endeavors.'