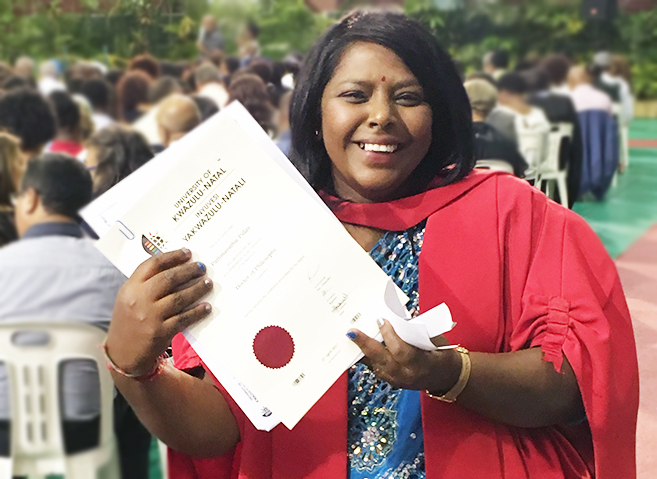 Lecturer Awarded Doctorate for Research on Cadaver Procurement Practices
A Lecturer in UKZN's Discipline of Clinical Anatomy, Dr Pamela Pillay, investigated cadaver procurement practices at Higher Education Institutions in South Africa and examined the ethico-legal frameworks related to the use of human tissue for teaching and research purposes in the country.
Pillay was awarded a Doctor of Philosophy in Health Sciences (Anatomy) for her work.
Said Pillay: 'The impetus for this study arose as a result of the coalface problems encountered by certain South African Higher Education Institutions due to critical cadaver shortages, with no interim or possible solution in sight.'
Pillay said her PhD research was a unique empirical study that explored the legal and ethical framework related to the use of human remains for anatomical teaching and research in South Africa. The work created an interlink between procurement of human remains, bioethical principles, and the law.
The study recommended the establishment of a national anatomy consultative forum, an online database for cadaver records and institutional guidelines for best practice related to use of human remains.
'This has been a challenging journey as I straddled research in two different areas. I think my five-year-old, Keolan, is more excited about my PhD than I am. He has been saying to random people: "I waited so long for my mummy's results and now she has them. I am so excited!".'
Pillay hopes to start collaborating with international academics and expand her research objectives.
'The PhD journey was not as lonely as people said it would be. I had a lot of support and encouragement from colleagues within Anatomy and the School of Laboratory Medicine and Medical Sciences. I am fortunate to have a very strong family support system.
'Without God and my family, I would never have been able to complete this journey.'