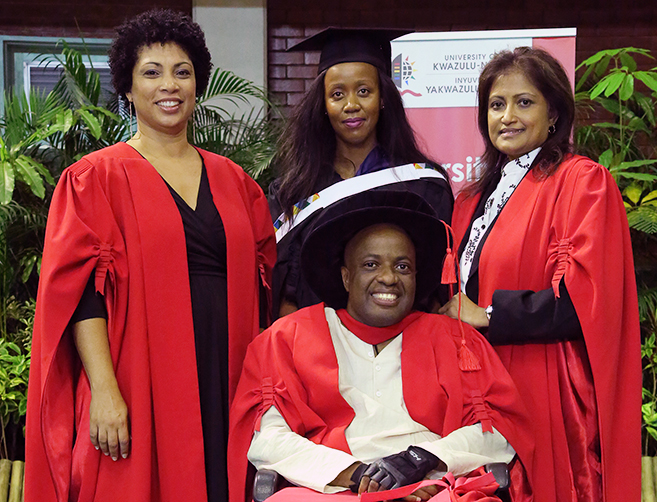 Degrees Conferred on Four Optometry Staff
Four staff members in the Discipline of Optometry completed their degrees over the past year.
Three are full-time staffers who attained their doctorates and the fourth is a contract worker who was awarded her Master of Optometry degree.
Dr Vanessa Moodley and Dr Diane van Staden, graduated with PhDs through the Dublin Institute of Technology in Ireland.
Moodley's thesis was titled: "The Development of a Social Accountability and Quality Assurance in Optometric Education", while van Staden's was headed: "A Systems Framework for Development Projects and Partnerships in Eye Health Training".
Dr Khathutshelo Percy Mashige graduated with a PhD in Optometry.
His study was titled: "A Comparative Study of Ocular Structural Dimensions that are Associated with Glaucoma in a Black South African Population with Healthy Eyes".
Mashige conducted a clinical study that provided additional diagnostic and therapeutic tools for glaucoma.
The study aimed to measure and compare aspects of ocular structural dimensions that are associated with glaucoma in Black South Africans with healthy eyes to establish whether the dimensions can be used as additional diagnostic and therapeutic tools.
The study found that the intra-session repeatability and inter-session reproducibility of the three main instruments used for data collection, i.e. Oculus Keratograph, Nidek and iVue OCT, were all within acceptable limits.
'Normative values for corneal and retinal parameters and their associations were established. These parameters and their associations provide information about the healthy eye and possible changes associated with ocular diseases, such as glaucoma. The results may assist in developing locally relevant diagnostic and therapeutic interventions that are applicable to this population,' said Mashige.
Mashige's thesis resulted in him having nine articles published in national and international journals, 'I was very fortunate to be awarded the South African Medical Research Council Scholarship which assisted me in completing this study. There were setbacks during my studies as I fell ill and had to be hospitalised for a long period of time.'
This brings the total number of full-time PhD-qualified staff within the Discipline of Optometry at UKZN to five. The other two academics with doctorates are Professor Kovin Naidoo and Dr Rekha Hansraj.