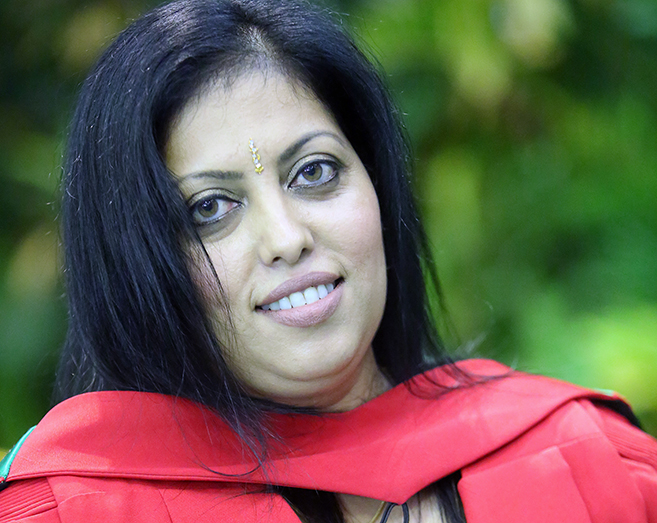 Quality of Life of HIV-Infected People in Durban Examined in PhD Study
A doctoral study evaluated the Health Related Quality of Life (HRQoL) of people living in lower socio-economic areas, comparing People Living with HIV (PLWHIV) on antiretroviral therapy (ART) and HIV negative respondents, and factors associated with their HRQoL.
The thesis by PhD in Public Health graduate Dr Prishah Narsai, who is the eThekwini Municipality's Chief Policy Analyst, was titled: "An Investigation of the Housing Conditions and the Health-Related Quality of Life of Clients in the Built Environment in the eThekwini Municipality During the HIV and AIDS Epidemic".
The work also investigated the relationship between social networks and the health and housing status of people living with HIV on ART and HIV negative respondents, residing in the four housing typologies in the built environment.
Said Narsai: 'As the urban population continues to grow and focus shifts from a rural to an urban emphasis, the provision of basic services and adequate settlements in rural locations must continue. Spatial analysis geographical information system (GIS) technology has long been in use in city planning, demography and epidemiology in all three spheres of government. For more complete, accurate and comprehensive geocoded data on resources, government needs to be more open with the availability of its data sets by allowing researchers access and forming partnerships to develop community initiatives.'
She believes the results will assist in studying the built environment to focus on communities in new ways, 'This should lead to improved interventions and improve citizens HRQoL by developing healthy homes and healthy built environments.'
According to Narsai, appropriate public health interventions will help improve the quality of life of people living with HIV and AIDS. 'Physical, psychological, social and environmental health factors should be taken into account when implementing these interventions,' said Narsai.
The cross sectional descriptive study was conducted at the eThekwini Municipality under the supervision of Professor Myra Taylor and Professor Champaklal Jinabhai. It was a two-phased study - phase one comprised a household survey and phase two was the antiretroviral therapy (ART) clinic survey.
The community-based household survey was conducted in four lower socio-economic housing typologies with randomly selected household heads or their representatives to investigate their housing and health needs.
The clinic-based survey investigated the housing and health needs of randomly selected HIV patients on ART attending local hospitals. 'The same study instrument was used for both phases in anonymous interviews with each respondent,' said Narsai.
The respondents lived in four housing typologies - Reconstruction and Development Programme (RDP) houses, informal settlements (IS), inner-city apartments (IC), and traditional rural (TR) housing.
Narsai, who holds a Master's Degree in Public Health Law, received an HIV/AIDS Training Scholarship from Columbia University in the United States and successfully completed a South African Netherlands Research Programme on Alternatives in Development (SANPAD).
The mother of three, said it was a challenge to balance her family, work and completing her PhD. Her husband, Sastri, their children - Achim, Ethan and Alina - and the rest of the family were proud of her achievement.