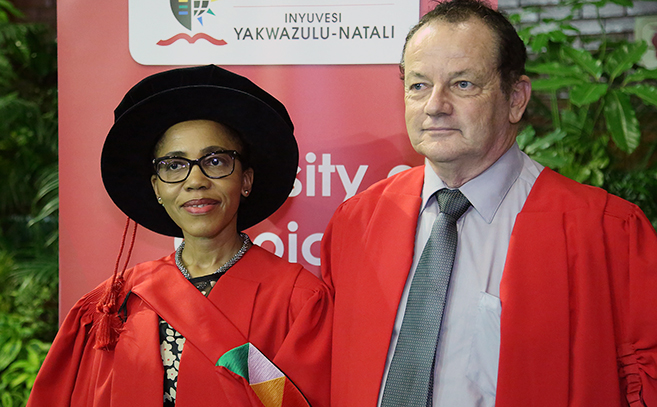 Lack of Information on Breast Tuberculosis – Study Finding
There is a lack of evidence-based information on breast tuberculosis (BTB), a UKZN study has found.
The research was conducted by the Head of the Clinical Unit in the Department of Radiology, Dr Dibuseng Ramaema, whose thesis was titled: "Radiologic Evaluation of Breast Disorders Related to Tuberculosis Amongst Women in Durban".
Earning Ramaema a PhD in Radiology, the study showed that a lot still has to be done in educating the public and healthcare workers about breast diseases.
According to Ramaema, her thesis aimed to compare the effectiveness of various radiological technologies to identify breast problems. 'Women in KwaZulu-Natal are at high risk of developing BTB due to the increased incidence of HIV. However, there is a general lack of knowledge regarding the various diseases that can affect the breast.
'This is compounded by problems with the national breast screening programme. As a result, many patients with breast cancer (BCA) and BTB are initially misdiagnosed by clinicians,' she said.
The study consisted of three phases - all based at eThekwini Municipality tertiary referral hospitals - supervised by the School of Clinical Medicine's Professor Richard Hift.
'The first phase aimed to determine the prevalence of BTB using retrospective data,' said Ramaema. 'The same data further provided information on the clinical and radiological manifestations of BTB.
'This study concluded that while BTB is not common, it shares clinical and radiology features with breast cancer (BCA), and is difficult to diagnose with current pathology methods.'
The second phase was done prospectively by recruiting patients newly-diagnosed with BTB. 'The aim was to evaluate the use of modern imaging techniques to further describe the radiology patterns of BTB and to determine the radiological parameters that may be used in disease monitoring,' said Ramaema.
The results provided insight into disease extent and showed that it was usually more severe than perceived with current diagnostic methods.
The third phase was performed with a retrospective image analysis of patients who had BCA and BTB, using modern radiology techniques. The goal was to identify salient features that differentiate BTB from BCA.
'Several radiology parameters were identified as possible biomarkers for differentiation between the two conditions. The knowledge of their respective features will assist in the timeous diagnosis of both conditions, particularly in cases where the pathology results are inconclusive for various reasons,' said Ramaema.
She said the study confirmed the low prevalence of BTB, however, at this stage some of their findings were preliminary and would require validation through future research.
With her doctorate complete, Ramaema is now focusing on her Department's academic and service improvements.