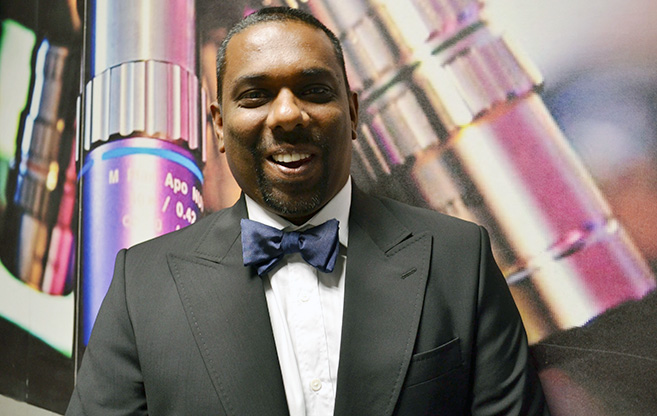 200th ISI Publication for UKZN Researcher
School of Health Sciences academic, Professor Thavi Govender, has distinguished himself by having 200 Institute of Science Index (ISI) articles and several book chapters published before his 40th birthday.
'It works out at an average of more than 16 papers a year since his PhD in 2004 and more than 25 papers a year over the past five years,' said his impressed colleague, Professor Gert Kruger.
Kruger, a Senior Lecturer and Research Professor in Organic Chemistry at the Peptide and Catalysis Research Unit (CPRU) which is headed by Govender, said Govender was one of UKZN's new generation of young high flyers destined to take research at the Institution to the next level.
In 2012 when Govender (36) celebrated the publication of his 100th paper, the then Vice-Chancellor of UKZN, Professor Malegapuru Makgoba, said: 'This is precisely the type of academic and role model a research-led and research-intensive institution such as UKZN needs. He has all the attributes of a true scholar - qualifications, research productivity with impact factors, post-graduate students, competitive research grants and teaching.'
The Dean and Head of the School of Health Sciences, Professor Mahmoud Soliman said: 'I salute Professor Govender on his outstanding achievements and research endeavours and wish him well in his future work.'
The ISI publishes a database of highly cited scientific researchers whose publications are most often cited in academic journals over the previous decade.
Analysis of the citation of his research demonstrates that Govender is making a solid and sharp upward international impact in his field of research. His H-index in the Web of Science citation report is 18 and his research publications have been cited over 1 020 times by peers in the field.
Govender scooped the Tetrahedron Asymmetry journal prize as co-author of the most cited paper from 2006 to 2009, and again in 2010. The paper, Organocatalytic Synthesis of Chiral Benzopyrans, appeared in 2006 and has been cited 93 times to date.
Other achievements include being among Tetrahedron Asymmetry's top 25 cited authors in 2010-11 (Tetr. Asym., 2010, 21 (7), 846); among Tetrahedron Asymmetry's top 25 cited authors in 2010-12 (Tetr. Asym., 2010, 21, 2859), and on the Cover Page of ChemMedChem's MiniReview - Polycyclic Cages in Neuroactive Drugs, 2012, 7 (3), 375-384.
Govender has taken his research to the next level by specialising and publishing extensively in six disciplines: synthetic chemistry, peptide chemistry, biochemistry, microbiology, analytical chemistry and physiology.
His research has focused on Alzheimer's Disease, Type II Diabetes, Cancer, HIV and TB – all of which resulted in high impact publications. He has since narrowed the scope to concentrate on drug resistant, infectious diseases such as HIV and bacteria, including TB.
'My passion for research stems from my desire to make a positive change in the world and to the lives of people around me,' said Govender.
He acknowledged his mentors Professor Kruger, Professor Fernando Albericio, Professor Per Arvidsson and Professor Glenn Maguire; his past and present students; collaborators and team members in CPRU; line managers, Professor Sabiha Essack and Dr Vassie Naidoo; the DVC of Health Sciences, Professor Rob Slotow; the Department of Science and Technology; the National Research Foundation; the Medicinal Research Council; UKZN's Research Office, the College of Health Sciences and Aspen Pharmacare.
Lunga Memela