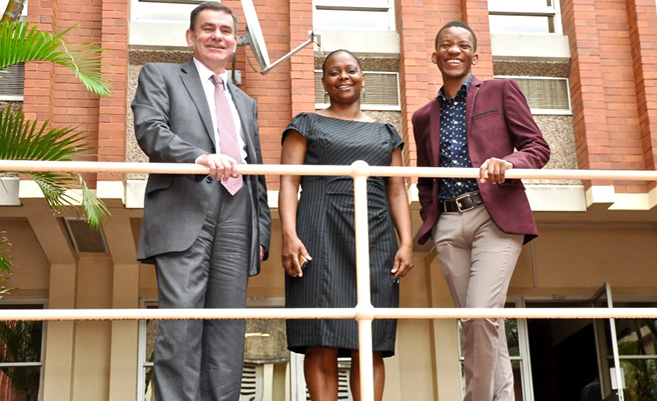 UKZN invited to ETDP SETA Stakeholder Engagement Forum
As part of their national roadshow, the Education, Training and Development Practices Sector Education and Training Authority (ETDP SETA) invited UKZN's School of Education and Extended Learning – who are constituents of the ETDP SETA - to their stakeholder engagement forum.
The forum enabled discussion regarding the extension of the National Skills Development Strategy (NSDS) and the proposed options for the SETA beyond 2016 within the context of an Integrated and Differentiated Post-School Education and Training system.
Explaining the relationship between the School of Education and ETDP SETA, UKZN's Professor Thabo Msibi said, 'We have formed a partnership with ETDP SETA as the SETA has financial resources which can assist our Undergraduate and Postgraduate Certificate in Education (PGCE) students with the completion of their studies. A number of our students come from disadvantaged backgrounds and have been beneficiaries of the ETDP SETA bursaries. It is a natural fit that we have formed this bond with ETDP SETA because we are both striving for teacher development.'
From last year, ETDP SETA provided the School of Education with 20 bursaries for financially deserving undergraduate students and at least 70 PGCE students were also beneficiaries. This year, 10 bursaries have been granted and a substantial number of PGCE students will also benefit. Msibi hopes that there will be an increase in bursaries and funding next year to better cover tuition, accommodation, travel, meals and stationery.
He pointed out that although money had been provided to students for their tuition, many still struggled to pay for transport to and from the University and those in residences battled to buy food as the R50 000 grants awarded to students were often inadequate to meet their needs. Msibi believes that this is something that needs to be taken into consideration and handled accordingly.
CEO of UKZN Extended Learning (UEL), Mr Simon Tankard, who also attended the event, explained UEL's long-standing partnership with ETDP SETA and the School of Education. 'We engage with each other in designing and offering courses and customised programmes that have a real, measurable impact, all in an effort to support the education sector in terms of teaching and learning, research and curriculum development. Our courses include addressing management and leadership development needs for school principals and senior management teams (SMTs). '
ETDP SETA provincial co-ordinator Ms Zandile Ntshangase added: 'We have received tremendous support from UKZN. We will continue to grow this partnership to continue to increase and develop the teaching profession.'
Melissa Mungroo