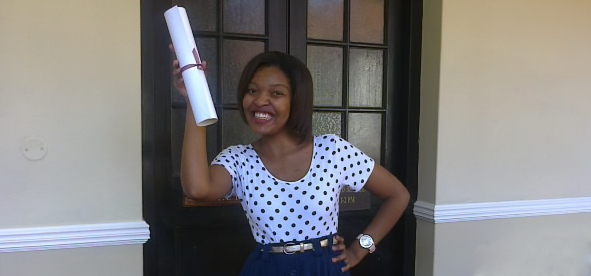 Prestigious Maritime Law Scholarship for Law Graduate
LLB graduate Ms Siphosakhe Phakathi is the first recipient of the newly established Steven Wallace Scholarship aimed at individuals who are studying to become legal practitioners in the field of Maritime Law.
From an early age, Phakathi of Uitvaal, a small rural area in Ladysmith, refused to let her background define her future instead being inspired by her mother who pushed her and her five sisters to strive for more after losing their father when they were young.
Fully aware of the plight of her family Phakathi assisted financially through working part-time while in high school to supplement their government social grant.
'We were poor but my mother said we should never admit to that and rather live as if we were rich! That was one of the things that motivated me not to feel sorry for myself but work hard to achieve my goals.'
The Steven Wallace Scholarship, offered by the Maritime Law Association of South Africa (MLASA) in honour of the late Mr Steven Wallace in recognition of the immense contribution he made in the field of Maritime Law, will enable Phakathi to complete her studies towards an LLM.
'Maritime Law is a complex and fascinating specialised area of Law, bringing together many aspects of private law – it also has vast development opportunities.'
Even though her thesis topic has not yet been finalised, Phakathi intends writing on Bills of Lading focusing on the presentation of the original bill of lading subject as a pre-requisite for delivery of the goods. 'My study will be a comparative one in which I will compare different jurisdictions and that of the South African position based on the Sea Transport Documents Act.'
She is grateful to Professor Trevor Jones, Co-ordinator of the Unit of Maritime Law and Maritime Studies at UKZN, for guiding her through the process of applying for the scholarship which covers full tuition and accommodation fees including membership of the Maritime Law Association.
'I am overwhelmed by the award and so is my family. The support I'm receiving from the Trustees is immeasurable. I have been invited for a work shadow in one of the Leading Law Firms at Norton Rose Fulbright to gain work experience in shipping law. I would say it is a great opportunity and exposure that every Law student desires.'
She is currently a member of the Students for Law and Social Justice and on completion of her studies she plans to use the skills acquired to contribute to the maritime sector. 'I am planning to practise as a maritime lawyer and hope one day I will be a highly skilled, effective, proud exponent and a good leader,' said Phakathi.
Hazel Langa