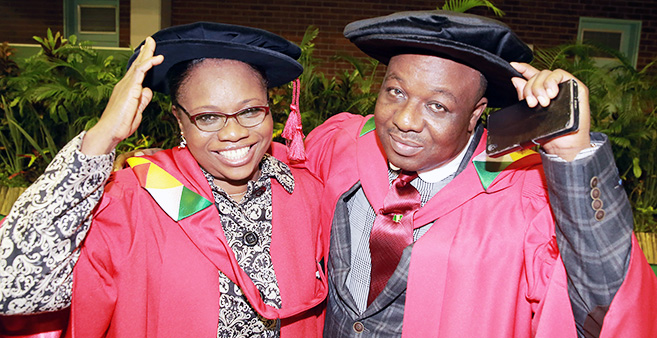 PhDs for Husband and Wife
There was a joyous family celebration when PhDs were conferred upon a husband and wife team Isaac and Ethel Abe.
Isaac's study titled: "The Linkage between Individual Interpersonal Relationships and Work Performance in the South African Retail Sector" earned him a PhD in Leadership Studies.
His work examined interpersonal relationships in terms of interpersonal conflict and social support, and their influence on employee work performance, contributing to the body of knowledge by questioning such relationships in the South African retail sector.
Issac made recommendations to improve interpersonal relationships through social support and reduced interpersonal conflict.
Ethel's study titled: "The Connection Between Work-Life balance (WLB) and Sense of Coherence (SOC) at a Municipality in the South African Public Sector", examined the achievement of WLB vis-à-vis SOC, work-life balance strategies, work and family stressors. It found that professional level employees at the municipality had strong SOC, but did not achieve WLB. It also revealed that employees were exposed to many work stressors among many findings. The study also earned her a PhD in Management.
The couple said: 'A PhD is easier for couples who understand that a marital relationship is not a competition. The achievement of one should encourage the other to work harder, not to compete with the other. Actually, we believe that it takes being a researcher to understand what another researcher is going through. So being in the same boat should boost understanding and support when the challenges of research become too daunting for anyone in the relationship. It's tough but if we did it, others could do better if they tried.'
They agreed that love, understanding and support were vital to their success.
Even though they had each other's support during their PhD journey, they experienced serious challenges, including delays in the renewal of their work permits which left them without an income for 14 months and a robbery at their home. 'As a couple, we had never experienced such things but by God's grace, our love for one another and the support of people in our lives helped us overcome the challenges.'
They are both grateful to their families and supervisors for the support throughout their journey. Financial support from their supervisors, Professor Roger Mason and Dr Ziska Fields enabled them to attend the 2015 conference of the Southern African Institute for Management Scientists in Cape Town as well as the 21st Century Academic Forum at Harvard in 2016.
The couple is currently considering whether to start a consultancy or post-doctoral fellowship.
Hazel Langa