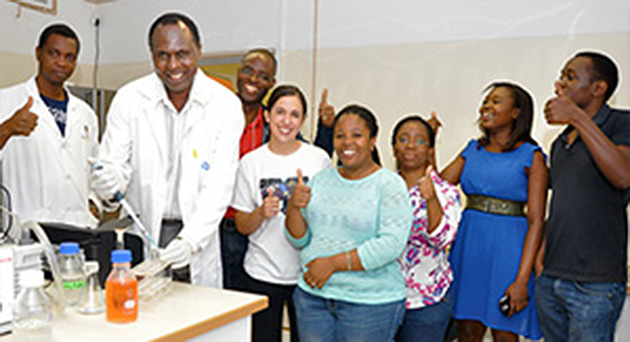 Grapefruit Juice Researchers Obtain PhDs in Pharmacology
A Nigerian couple graduated with PhDs in Pharmacology in the record time of two years after completing novel research on the health benefits of a bioactive flavonoid, known as naringin, found in citrus fruits, mainly grapefruit.
With supervision by Dr Peter Owira, who is a Senior Lecturer in Pharmacology and regarded as an expert on the subject, Olubunmi and Oluwafeyisetan Adebiyi explored the effects of naringin on diabetes complications and on individuals treated with Highly Active Antiretroviral Therapy (HAART).
Olubunmi said the current therapies for diabetic cardiomyopathy (chronic disease of the heart muscle caused by chronic exposure to high blood glucose levels) were inadequate, thus new and effective alternative therapeutic agents were needed. He therefore investigated naringin as a potential new therapy that might be useful in mitigating diabetic complications, particularly diabetic cardiomyopathy.
'Our findings were very encouraging and suggest that naringin might provide a platform for developing drugs that may be of benefit in preventing or treating diabetic complication. Naringin showed cardio-protective effects by limiting oxidative stress-triggered maladaptive signalling and hyperglycemia-triggered myocardial structural and mitochondrial damage.'
Oluwafeyisetan's study, also on a rat model, was titled: "The Effects of Naringin on Nucleoside Reverse Transcriptase Inhibitors-Induced Metabolic Complications and Mitochondrial Dysfunction".
She said that Nucleoside Reverse Transcriptase Inhibitors (NRTIs) incorporated into the HAART regimen had improved treatment outcomes of HIV infection but their use had led to metabolic complications such as loss of subcutaneous fat (lipoatrophy) leading to stigmatising distortion of physical appearance, poor adherence to antiretroviral therapy and increased risk of developing diabetes and cardiovascular disease.
'Currently there are no treatment guidelines for treating these metabolic complications. Effects of naringin, a grapefruit-derived flavonoid, on metabolic complications associated with the use of zidovudine or stavudine were investigated in the study. Naringin reversed NRTI-induced glucose intolerance, insulin resistance, subcutaneous fat loss, oxidative stress, and mitochondrial dysfunction in the study. These findings therefore suggest that as a dietary supplement, naringin could prevent the adverse metabolic effects of these drugs in patients on HAART containing zidovudine or stavudine.'
Owira said: 'The two candidates completed their research in a record two years and their findings have now been published in peer-reviewed high impact factor international journals - Nutrients, Journal of Cardiovascular Pharmacology, Plos One and Human Experimental Toxicology. It was an experience and pleasure to supervise them. On behalf of my team at the Molecular and Clinical Pharmacology Research Laboratory, we wish them well in their future endeavours.'
Lunga Memela