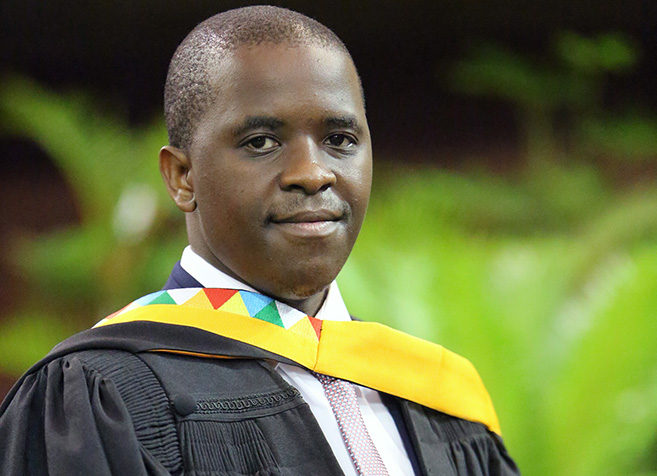 Research Explores Role of Law in Curbing Violation of Bystanders' Rights During Violent Protests
Violence which usually accompanies protest action in South Africa and the consequent violation of the rights of non-protesters, motivated Masters of Laws cum laude graduate, Mr Khulekani Khumalo, to search for a remedy to the rampant violation of the rights of bystanders during violent protests.
Said Khumalo: 'Violent protests were and continue to be a cutting-edge societal issue which is constantly in the news headlines and on everyone's lips. Not long ago, we saw a series of protest action organised under the auspices of the #RhodesMustFall, #FeesMustFall and #OutsourcingMustFall campaigns, which gives me more opportunity to publish on this topic.'
Further developments around violent protests, particularly the recent attempts to charge protesters with serious crimes such as terrorism and treason, have prompted Khumalo to focus his doctoral studies on the constitutionality of South Africa's internal security laws by examining whether these laws are consistent with the Rule of Law doctrine and whether they violate any of the rights in the Bill of Rights.
Khumalo's keen research in this area has resulted in publication in last year's Third Volume of the Obiter Law Journal of his article titled: "Developing the Crime of Public Violence as a Remedy to the Violation of the Rights of Non-Protesters During Violent Protests and Strikes".
On the academic front, Khumalo is not only involved in the learning and research aspect but also plays an active role in teaching. After graduating with his LLB cum laude in 2013, Khumalo started his articles of clerkship with Norton Rose Fulbright South Africa. The initial idea was that he would pursue a career in the main stream legal sector, but the love for academia and research led to him joining the School of Law as a lecturer.
'Working towards both my undergraduate and postgraduate qualifications was undoubtedly a daunting yet very fulfilling and worthy task. Studying towards these qualifications, and having practiced law for a while, made me observe and appreciate how each qualification in life bolsters the skills necessary for any employment. With the skills acquired thus far, I am confident that I have the potential to succeed in my academic career,' he said.
Thandiwe Jumo