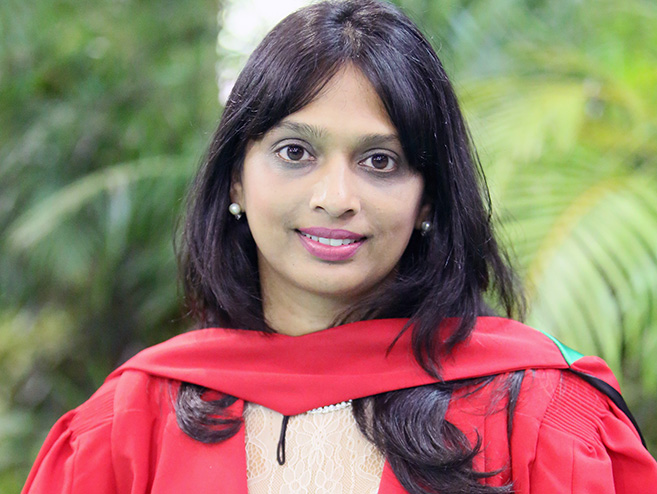 UKZN's First Woman Land Surveying PhD
UKZN Lecturer Dr Mayshree Bejaichand is UKZN's first woman to graduate with a PhD in Land Surveying and Mapping.
Bejaichand thanked UKZN, the National Research Foundation and her various collaborators. 'I was fortunate to have been mentored by many kind and successful people throughout my career. My father was always hard working and believed that education and financial independence were very important in a woman's life,' said Bejaichand.
'A major part of my professional career was developed at the Council for Geoscience in Pretoria. My mentors guided me in the art of a successful project. I collaborated with many successful scientists who emphasised the need for quality in outputs and integrity in research.'
Supervised by Dr Molemwa Akombelwa, Bejaichand's research focused on seismic sources, seismotectonics and earthquake recurrence for KwaZulu-Natal coastal regions.
She developed a seismotectonic model for seismic hazard and risk assessments. The model, produced from an investigation of the earthquake record, the geological and geophysical environments and the structural regime, has increased resolution from previous studies and provides an important starting point for future higher resolution studies of seismic hazard and risk for critical structures such as bridges, dams and power plants.
Bejaichand paid tribute to the support she received from her mother who died last year, and also other family members and friends.
Bejaichand is keen to pursue her research further. 'I want to increase the resolution of the seismotectonic model with an increased amount of geological, geodetic and geophysical field surveys. I would also like to create an automated process for the modelling itself. This work needs to be done in collaboration with stakeholders such as disaster management centres, engineers and municipalities in order to facilitate trans-disciplinary research and serve the needs of the community,' said Bejaichand.
Discussing her history-making achievement she said: 'I have never considered that being a woman was a limitation. I believe that men and women have similar capabilities in the workplace. When we collaborate or interact on a research level one only looks at the capabilities and skills of the individual and not the gender.'
Bejaichand said while women were certainly under-represented in senior posts in the field, their numbers were growing. 'I still believe that in general women have more responsibilities, especially having to juggle family life and their career. At the same time attitudes are changing in terms of home responsibilities being shared and this is having a positive impact in the workplace.'
Prashina Budree