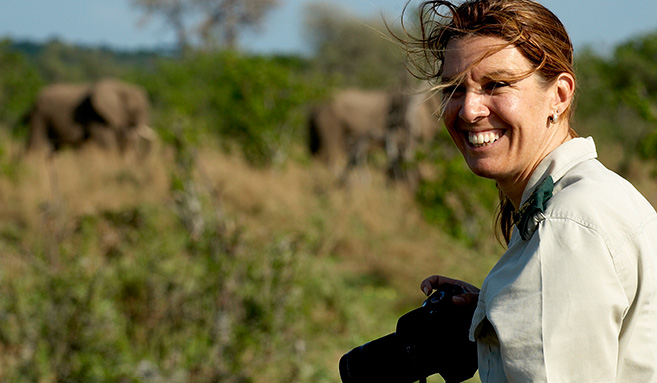 For the Love of Elephants
Choosing to work with wildlife was a childhood dream come true for newly-capped Dr Jeanetta Selier, who is employed as a Senior Scientist with the South African National Biodiversity Institute (SANBI) in Pretoria.
Specialising in elephants, however, was a coincidence. 'After working briefly with a delinquent juvenile herd during my Honours year, I was captivated by them,' she explained.
UKZN awarded Selier a PhD in Biology for research she conducted on the challenges and opportunities in conserving wide-ranging cross border species and, in particular, on her case study of the Greater Mapungubwe Transfrontier Conservation Area (GMTFCA) elephant population.
Selier was supervised by UKZN's Professor Rob Slotow as well as Dr Enrico di Minin and Mr Bruce Page, who are both honorary affiliates of UKZN's School of Life Sciences.
'Rob and Bruce have vast experience in elephants and Enrico has extensive knowledge in applied conservation issues and specifically the various modelling methods required for my study,' said Selier. 'This made studying at UKZN a logical choice.'
Selier said that establishing a long-term research project on a mostly unknown wild population of elephants that moved freely between three southern African countries - South Africa, Zimbabwe and Botswana - was a challenging but rewarding experience.
'Elephants are not only amazing creatures to work with but the challenges facing these wide-ranging, trans-boundary, high value species are complex,' said Selier. 'My PhD research provided a great opportunity to contribute to their conservation.'
For her PhD, Selier followed a trans-disciplinary approach to assess the challenges and opportunities facing the conservation and management of the African elephant population within the GMTFCA, which both occupied human-modified landscapes and spanned administrative and political boundaries.
'I showed that the current rate of trophy hunting of bull elephant in the GMTFCA is unsustainable,' said Selier. 'I recommended that no more than 10 trophy bulls be hunted annually throughout the GMTFCA.'
Selier further showed that both ecological factors such as vegetation productivity and human disturbances such as trophy hunting influenced the abundance of elephant at different scales.
'On the landscape scale elephants make the decision on where to be in the landscape, while at the site level they decide on how to utilise the available resources,' she explained. 'Trophy hunting, as well as other localised human activities, affected the distribution of elephant within sites, forcing them to trade-off between disturbance avoidance and good food and water availability.'
Selier's study further highlighted the importance of socio-economic factors and confirmed that poverty was an important factor affecting elephant abundance at a country level and at a local level, anthropogenic disturbances (i.e. that caused or influenced by humans, such as increasing human densities) played a crucial role.
As part of her research Selier explored the essential elements of organising wildlife law and policy at the trans-boundary level, by drawing on European experiences regarding the management of populations of gray wolf (Canis lupus) and of the pink-footed goose (Anser brachyrhynchus).
This was followed by an analysis of applicable global, regional, trilateral and national law and policy as pertaining to Botswana, South Africa and Zimbabwe, and to what degree the trans-boundary population level approach has been incorporated in respective laws and policies.
'While at the international level, a significant body of law and policy relevant to elephant conservation exists, I found that there was little co-operation among Botswana, South Africa and Zimbabwe and a lack of implementation of these provisions on a national and trilateral level,' she said.
As well as suggesting a revision of the current hunting quotas within each country, Selier advocated the establishment of a single multi-jurisdictional (cross-border) management authority to regulate the hunting of elephant and other high value cross border species. In order to reduce the impact of increasing human populations and agricultural expansion, she recommended the development of co-ordinated legislation and policies to improve land use planning, and the development of conservation corridors to link current protected areas.
'Management of elephants is always contentious,' said Professor Slotow. 'When you add in three different countries, with different laws and approaches, the elephants are caught in the middle.' Slotow said Selier approached a complex problem and broke it down into component parts, and used evidence to address the problem.
'Her various recommendations are robust and sound, and provide for a strong impetus towards a collective approach to management of trans-frontier areas.'
Slotow said Selier's work provided a framework for engagement for the managers in the three countries involved. 'Her project leaves a strong legacy, which will improve the quality of conservation management in South Africa, Botswana and Zimbabwe and may lead to persistence of elephants in this landscape.'
Selier thanked the numerous people who played an important role in her study, including the government of Botswana, everyone that participated in the total aerial counts that were conducted over a 12-year period, Mashatu Game Reserve, her parents and last but not least, her supervisors, 'who patiently guided me and mentored me'.
Sally Frost