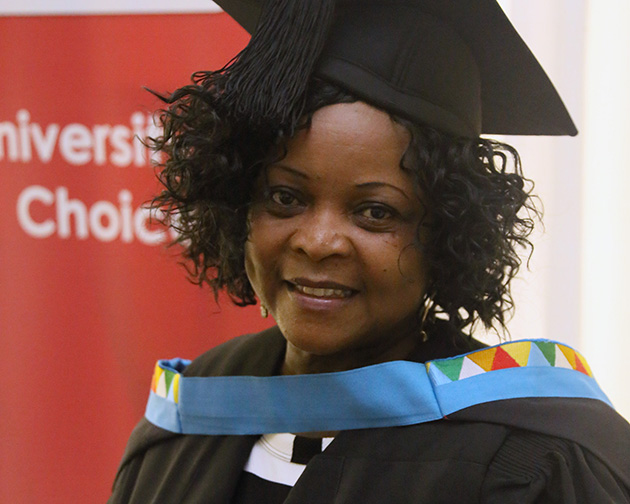 Student's "Total Dedication" leads to Cum Laude Master's in Science Education Degree
Master's in Science Education student Mrs Furirwai Samaneka was ecstatic to graduate cum laude from UKZN.
'When I received the call from my supervisor, I was so happy I cried,' said Sameneka. 'I couldn't believe it. Receiving the formal letter concretised it for me. My hard work and commitment paid off handsomely. I am very proud.'
Samaneka faced a number of challenges during her study. She was a part-time student, constantly had to juggle her studies with work and family, and got up at 3am most days to work on her research.
'It is not easy being a mother, fulltime teacher and a student. I live 150 km away from Edgewood campus and had to drive this great distance to meet with my supervisor, Dr Asheena Singh-Pillay, who saw me sometimes after working hours and on weekends.
'The drive was financially taxing and physically and emotionally exhausting. Then my laptop and external modem were stolen but fortunately I was able to retrieve my chapters from e-mails and from my supervisor. Not receiving funding was also a problem,' she said.
Samaneka's research explores Life Sciences teachers' views on the implementation of the practical examination in the Estcourt region. She hopes that the findings of the study will inform the process of policy reform, in particular 'the kind of continuous professional development practising teachers require for policy implementation such as the practical examination. It is envisaged that teachers' practice will inform curriculum reform and speak directly to curriculum developers, subject advisors and school managers.'
She thanked her family, friends and her supervisor for their ongoing support during her studies. 'I am humbled by the support and encouragement they gave me to persevere during times when I felt exhausted, overwhelmed and uncertain. This achievement would not have been possible without their understanding, love and care.'
Samaneka plans to take a well-deserved holiday and hopes to pursue her PhD next year.
Melissa Mungroo