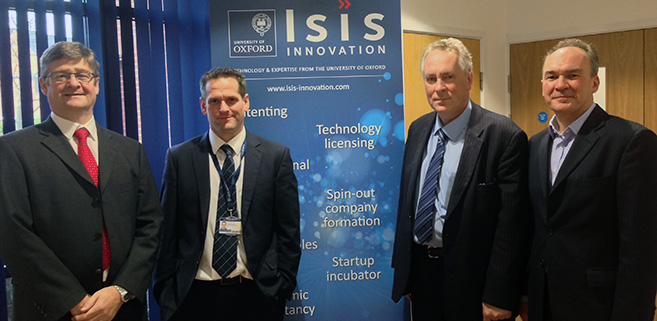 Technology Transfer and Commercialisation Workshop at UKZN Leads to Bigger Things
Isis Enterprise, an international innovation management and technology transfer consultancy based at the University of Oxford in England, facilitated a technology transfer and commercialisation workshop at UKZN.
UKZN's Deputy Vice-Chancellor: Research, Professor Jonathan Blackledge, said the workshops - the first in a series of engagements - were the result of a Memorandum of Understanding the University signed with Isis Enterprise, which is part of Isis Innovation Ltd, Oxford University's technology transfer company.
Blackledge emphasised involving role players from the region and benefiting the wider community in KwaZulu-Natal.
'There's no point in keeping intellectual property in a university. It's a UKZN show, based on Oxford expertise.'
Blackledge added that although UKZN was heading up the initiative, there was collaboration with the Durban University of Technology, the University of Zululand, Mangosuthu University of Technology, as well as eThekwini Municipality, the Durban Chamber of Commerce and the KZN Department of Economic Development.
Dr Tim Hart, a managing consultant with Isis Enterprise, said their approach was to support economies and economic development through innovation-based activities. 'The work we do is focused on delivering economic and societal impact. The way we do it is by helping to transfer technologies from universities to industry.'
Pro Vice-Chancellor: Innovation, Commercialisation and Entrepreneurship at UKZN, Professor Deresh Ramjugernath, said while some may look at innovation and tech transfer purely as a money-making scheme, 'social benefit and social upliftment are an integral aspect of it'.
Ramjugernath said major problems faced in South Africa - including unemployment, poverty and the low-economic growth rate - could be addressed using technology transfer and innovation which was in line with the National Development Plan strategy of moving the country towards a knowledge-based economy.
Illustrating this he said: 'Let's say for example UKZN has a piece of research which can be developed and it results in a manufacturing plant for a drug or pharmaceuticals being built in Durban, this creates jobs for people in the local community. It generates revenues, taxes and so forth, which then leads to economic development and indirectly to social upliftment.'
Isis Oxford's Mr Terry Pollard said Isis Innovation had been in operation for more than 25 years. 'Last year, it protected 100 new ideas with patents, brought in revenues of nearly 25 million sterling and helped academics win another 25 million pounds in research funding.
'It's solving problems with good ideas. Good ideas are intellectual property, it can be a patent, but it could be some clever software on a phone for communications,' said Pollard.
Dr Sibusiso Mlondo of the KwaZulu-Natal Regional Office of Technology Transfer said UKZN was the leader in technology transfer and innovation in the province due to its size and infrastructure.
Ramjugernath said the regional technology transfer office was hosted at UKZN to enable it to have a greater impact. 'We don't just want to impact the community within the University, we actually want to impact the lives of the community within the region, nationally, and globally.
'We want to have a consortium of Higher Education Institutions and stakeholders in the region and develop a regional hub for innovation and entrepreneurship. We are hoping that this relationship with Oxford will help us to enhance that, due to their experience in the UK and across the world,' said Ramjugernath.
Said Blackledge: 'Innovation is not just about science and engineering – that's the general perception. It should also be about the arts and humanities, in equal measure. And therefore Oxford is the perfect match for the University.'
For more information visit Isis Innovation.
- Raylene Captain-Hasthibeer