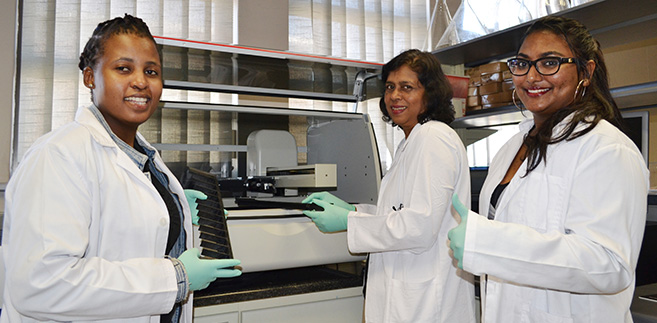 New Equipment to Boost Health Sciences Research at UKZN
UKZN's Optics and Imaging Centre (OIC) is home to new state-of-the-art equipment that will cut costs and boost productivity for staff and student researchers within the College of Health Sciences (CHS) and the wider University community.
The Centre was recently awarded an Autostainer Link 48 valued at R1million from the CHS Research Development Equipment Grant.
The new machinery offers the basic procedure of phenotypic evaluation of various antibodies by pre-programming of the immunocytochemistry staining protocol - a process utilised by several departments for research.
Head of the OIC, Professor Anita Naicker, said the Autostainer also provided a 'complete standardisation of deparaffinisation and antigen retrieval, leading to consistent, accurate results'.
Naicker said previously students performed a manual procedure that extended over a whole day while capacity development of young postgraduates in the fields of microscopy and related techniques was a priority objective of the OIC.
She said pre-programming of the new instrument allowed for three periods of autostaining over 24 hours. The instrument also allowed for overnight immunostaining - all of which would speed up the CHS' research productivity.
A OIC postgraduate staff member, Mr Vinogrin Dorsamy, recently obtained his Master of Medical Science degree using the Autostainer Link 48 and will now assist in advising staff and postgraduate students across the College.
Naicker announced that the autostainer was available for use by the entire College as well as the wider UKZN community,
The OIC is a valuable biomedical research resource for CHS, providing imaging and image analysis technologies to help medical researchers understand biological structure and function relationships in cells and tissues relevant to disease conditions. The college was also recently awarded the Bioplex Multiplex System valued at R600 000 by the CHS to continue its research excellence.
'This is a flexible easy-to -use microplate based multiplex immunoassay system,' said Naicker. 'It enables one to quantify up to 100 different analytes in a single sample improving the understanding of multifaceted interactions among proteins in normal and disease states. Multiplexing of immunoassays, receptor ligand assays and nucleic acid hybridisation assays are now possible.'
CHS staff from each school will soon receive training trained at the OIC in the operation of the new machine. Naicker and her fellow UKZN lecturer, Ms Anushka Ajith, will oversee the training and development of staff and postgraduate students.
Lunga Memela