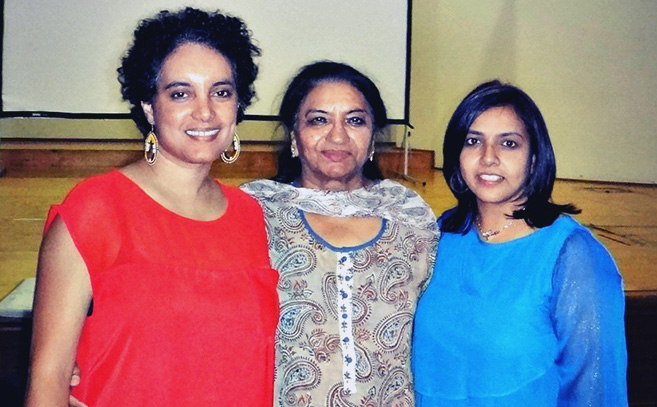 Excavating Body Stories Workshop a Success
Dr Maheshvari Naidu of the School of Social Sciences in the College of Humanities recently convened a highly successful workshop titled: "Excavating Body Stories", as part of her involvement in the Young women's Leadership Project.
The workshop, presented in co-operation with the African Gender Institute (AGI) based at the University of Cape Town, was part of a larger project funded by a Ford Foundation Grant awarded to AGI and to which Naidu was invited.
The theoretical context to the workshop foregrounded the fact that academic institutions are often contested spaces where a multiplicity of identities and articulation of "self" and "body" are performed and challenged. Naidu said 'these realities force academics to confront theoretical issues in material terms and in the lived contexts of the lives of women students'.
The material starting point for her workshop, she said, was meant to, in turn, offer young university women an opportunity to share their stories around issues relating to power and disempowerment around their bodies. 'The workshop offered a space for the participants to share stories and concerns around sexual coercion and control, and issues around body ownership,' said Naidu.
'The workshop provided space and opportunity for "action research" and working with "an ear to the ground", all of which allows us to gain greater insight into the women whose lives we seek to understand.'
The invited key speaker was Professor Shalina Mehta, Social Anthropologist at Panjab University in Chandigarh, India. Among many other accolades and achievements, Mehta was appointed Convener of the International Seminar on Prevention and Care for People affected by HIV and AIDS at the Royal Tropical Institute, Amsterdam, Netherlands in 2001.
In 2003 she was also the Senior Fellow, Social Science Research Council, New York, under its South Asia Regional Fellowship Programme funded by the Ford Foundation in the United States.
In her address, Mehta drew from her qualitative work with women and body issues in the third world context of India, identifying South African parallels.
Dr Barbara Boswell of the African Gender Institute at the University of Cape Town spoke about the wider inter-institutional and inter-collaborative nature of the project, and welcomed both Naidu and UKZN formally to the Project.
Naidu said that she designed the Workshop itself to be highly interactive and consciously featured poetry and art sessions as creative contexts and modalities through which "body stories" could be excavated and shared by the young women. An invited session on 'Body Work' was also convened by Dr Partab who invited the group to initiate a conversation around interrogating notions on "body" and "self".
Dynamic poetry and vocal performances motivated the participants to compose and share their own powerful narratives and stories that revealed deeply embedded issues.
In the last session, Mr Danny Moatlhodi invited participants to draw their emotions as a way of externalising embedded stories and feelings.
Naidu said the aim of additionally inviting female representatives from the SRC leadership, Peer Educators, Student Residence representatives, LBGTI Forum members as well as staff and postgraduate students interested in Gender issues, was to reach, through those attending, the wider contexts within which these women interacted. Naidu's postgraduate students acted as student facilitators and collated participant contributions and feedback.
The workshop was a resounding success, judging from the response and the feedback from those attending and was covered in the local media in attendance. Naidu said the positive response was heartening and that this workshop was the first in a series she aimed to present during the year.
Naidu said that she appreciated the Grant awarded to her by AGI which made this kind of critical work possible.
Melissa Mungroo